Jesus, My Lord, My God, My All



Jesus, my Lord, my God, my all!
How can I love Thee as I ought?
And how revere this wondrous gift,
So far surpassing hope or thought?

Refrain:
Sweet Sacrament, we Thee adore!
Oh, make us love Thee more and more.
Oh, make us love Thee more and more.

2. Had I but Mary's sinless heart
With which to love Thee, dearest King,
Oh, with what ever fervent praise,
Thy goodness, Jesus, would I sing!
Refrain

3. Thy Body, Soul and Godhead, all!
O mystery of love divine!
I cannot compass all I have,
For all Thou hast and art is mine!
Refrain

4. Sound, then, His praises higher still,
And come, ye angels, to our aid;
For this is God, the very God
Who hath both men and angels made!
Refrain


This is a beautiful classic Catholic hymn, used by the universal Church for countless decades. It expresses the deepest sentiments of love and piety, but with a dignity and reverence that is seldom found in modern hymns. It is still sung today in many conservative or traditional Catholic circles.

NOTE: There is more than one melody for this beautiful hymn. There is the melody shown below, but also a MUCH BETTER one which ChantCd.com does not have in scanned (electronic) form. It can be found in many older hymnals, however.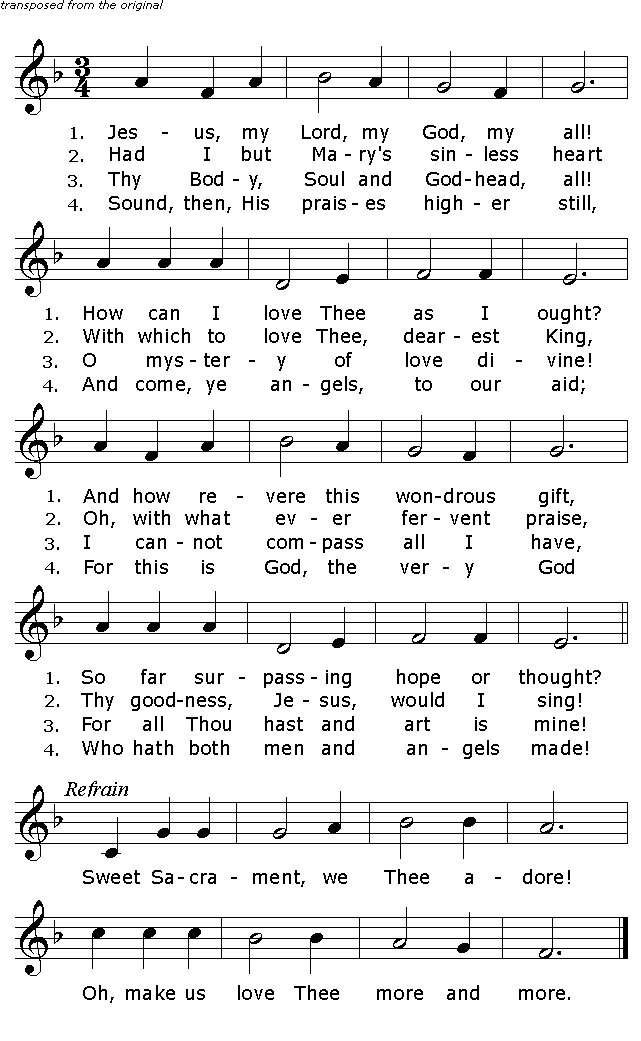 Return to Gregorian Chant Lyrics page