Catholic Search
Custom Search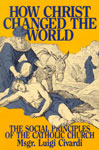 CHAPTER 1
Christianity and the Family
Preliminary Notions
1. The Christian belongs to three distinct societies: domestic, civil, and religious. These three societies are not opposed to one another, but are mutually complementary, each one answering to particular needs of man. They should, therefore, live in perfect harmony, helping one another.
Domestic society, the family, takes precedence over the other societies. In fact, it was instituted by God Himself, in the Garden of Eden, when He proclaimed this law: "Wherefore a man shall leave father and mother and shall cleave to his wife: and they shall be two in one flesh." [Gen. 2: 24]. The family is, therefore, a natural society, because it was founded by the Author of nature Himself. Moreover, it is necessary by reason of its end, which is the generation and the education of man.
2. The family has its root and its foundation in marriage. Marriage actually creates, sustains and gives life to the institution of the family, as the soul gives life to the body. Marriage is directed to these essential ends: the propagation of life, and hence the preservation of mankind [principal end]; mutual help between the spouses and the quieting of concupiscence [secondary ends].
Marriage is endowed with these three essential prerogatives:
(a) Unity, by which one man is united to one woman [monogamy]. Therefore, polyandry [more than one man with one woman] and polygamy [more than one woman with one man] are to be condemned.
(b) Indissolubility, by which the marriage contract is not temporary but permanent. Therefore, divorce, which is an arbitrary dissolution of the marriage contract, is to be condemned.
(c) Sanctity, which derives from the holy end of marriage, namely the propagation of life. The spouses, by exercising their generative functions, become co-operators with God, the Creator, Himself. These sacred features which God Himself impressed upon the family and upon marriage had become shamefully disfigured at the time of Christ, not only among pagans but even among the Jews. Jesus Christ reformed and restored the family, by redeeming marriage, woman and the child.
The Restoration of Marriage
At the time of Christ, marriage, among all nation had lost its essential and original characteristics: unity, indissolubility and sanctity. It had lost its unity because the husband could have more than one wife; its indissolubility, because divorce was possible even upon the most trifling grounds; its sanctity, because marriage was considered a mere instrument of pleasure.
Divorce was so common among the Romans in latter times that the philosopher Seneca remarked that man women "might have reckoned their years, not from the number of consuls, but of husbands." [The consuls were changed every year.] And St. Jerome, in one of his letters, speaks of a woman who had buried her twenty-third husband. Polygamy and divorce were obviously the ruin of the family. Even among the Jews there was the so-called bill of divorce, by which a husband could put away his wife for any reason whatever.
3. Jesus Christ elevated marriage by restoring its primitive unity, indissolubility and sanctity. One day the Pharisees asked Him: "Is it lawful for a man to put away his wife?" and Jesus answered: "Have you not read that he who made man from the beginning, made them male and female? and he said, 'For this cause shall a man shall leave father and mother and shall cleave to his wife, and they shall be two in one flesh?' Therefore, now, they are not two, but one flesh.' [Matt. 19: 4-5].
"WHAT THEREFORE GOD HATH JOINED TOGETHER, LET NO MAN PUT ASUNDER." [Matt. 19: 6].
With these words, Jesus sanctions the unity of marriage. He says, in fact, that man "shall cleave to his wife;" not to his wives; and that they are no longer two, but one flesh—not three, four or more. Still more clearly He sanctions indissolubility by stating that man "shall cleave to his wife" and states that such a union is willed by God; consequently, a man cannot break it; "let no man put asunder what God hath joined together:" Jesus Christ, by that absolute statement, does not allow divorce for any cause. He also restored to marriage its sanctity; furthermore, He raised the marriage contract to the highest degree of sanctity and of dignity by making it a Sacrament, and "a great Sacrament," as St. Paul calls it, comparing the union of husband and wife to the union of Christ with the Church, His spouse. [Eph. 5:22-23].
The Church, like its Divine Founder, has always recognized, both in words and in fact, the capital importance of marriage, surrounding it with many laws and safeguards, in order to protect its natural prerogatives. The Marquis Francesco Pacelli—who played such an important part in the negotiations for reconciliation between the Church and Italy—said in his discourse at the Social Week of Rome [September, 1929]: "The question of marriage was a most delicate one. At the very outset of the negotiations, Pope Pius XI told me that for him marriage was one of the most important points, and that the State had to acknowledge the civil effects of the sacrament of marriage contracted according to the laws of the Church." When this concession was obtained, the Pope himself had occasion to write that this "is such a great benefit that for it I would have sacrificed life itself." [Letter to Cardinal Pietro Gasparri, Secretary of State, June 30, 1929.]
The Church, throughout the centuries, has suffered strife, persecutions and injuries of every sort, in order to preserve the essential characteristics of marriage as established by Christ. Henry VIII, King of England, desired to divorce Catherine of Aragon and put Anne Boleyn on the throne. To Pope Clement VII, who protested it, he cried out: "Either the divorce or schism!" But the Pope permitted the schism of a whole nation in order to preserve the sanctity of marriage.
Such was the conduct of the Church in defense of Christian marriage in similar cases throughout nineteen centuries. It considered marriage sacred and inviolable and the foundation of human society and civilization.
The Elevation of Woman
1. Polygamy and divorce enable us to understand clearly what position a woman held in pagan families at the time of Christ: a servant, a tool of man—a plaything of his passions. Even by the learned, a woman was looked upon as a being inferior to man. Plato wrote that: "The souls of the wicked will be punished in their second generation in the body of a woman, and in the third, in that of a beast."
Ordinarily, the consent of a young woman was not required in marriage. Her father gave her to whom he wished, or whomever paid most for her. Among some peoples, there were also laws that gave the husband absolute power over his wife: he could punish her at will, sell her as a slave or even put her to death.
2. The Divine Redeemer raised woman from this state of degradation by restoring her primitive dignity as a companion of man, like unto himself God, in fact, in creating the first woman, pronounced these precise words:
"Let us make him a help like unto himself:" [Gen. 2: 18] Like, not inferior: This elevation of woman was brought about in various ways:
(a) Jesus elevated her first of all by being born of a woman. St. Paul writes: "God sent his Son, made of a woman." [Gal. 4:4] A woman made kindred to the Divinity in the most intimate manner! What an exaltation of the feminine sex! The Roman liturgy sings this magnificent praise to the Virgin:
"Thou before astonished nature didst beget thy Holy Maker:" Dante in his Divine Comedy re-echoed the same theme: "Thou art she who didst human nature so ennoble that its own Maker scorned not to become its making:' [Par: 33: 2-6] The same poet was able to describe this singular woman: "Lowly and exalted more than any other creature:"
All human nature was ennobled by Mary; but especially feminine nature, because she was proclaimed "blessed among women." Who would still dare to say, after that exaltation of Mary, that woman is a being inferior to man?
(b) Jesus elevated woman by restoring the unity, indissolubility and sanctity of marriage, thus making her the queen of the home and enshrining her natural gifts, as it were, in an inviolable temple. And yet St. Paul says: "Let women be subject to their husbands, as to the Lord; because the husband is head of the wife, as Christ is the head of the Church." [Eph. 5: 22-23]. But this happens only because of the need of authority and order in the family, which calls for unity of command. In fact, though subject to him, woman is always man's companion, not his servant. The Apostle, in fact, continues: "Husbands, love your wives, as Christ also loved the church, and delivered himself up for it . . . Let everyone of you in particular love his wife as himself." [Eph. 5: 25, 33].
The power of the husband, therefore, has well-defined limits: he is the head of the wife, but for her welfare. He could not have a loftier Exemplar: Jesus Christ, who delivered Himself up for His beloved spouse, the Church.
On this point, Pius XI, in his Encyclical Casti Connubii, on Christian Marriage, writes:
This subjection, however, does not deny or take away the liberty which fully belongs to the woman both in view of her dignity as a human person, and in view of her most noble office as wife and mother and companion; nor does it bid her obey her husband's every request if not in harmony with right reason or with the dignity due; nor, in fine, does it imply that the wife should be put on a level with those persons who in the law are called minors, to whom it is not customary to allow free exercise of their rights on account of their lack of mature judgment, or of their ignorance of human affairs." But it forbids that exaggerated liberty which cares not for the good of the family; it forbids that in this body, which is the family, the heart be separated from the head to the great detriment of the whole body and the proximate danger of ruin. For if the man is the head, the woman is the heart, and as he occupies the chief place in ruling, so she may and ought to claim for herself the chief place in love.
(c) Jesus rehabilitated woman by making her substantially equal to man: equal with regard to the end [Heaven], the laws, the means of salvation, etc. In this connection St. Paul writes: "There is neither Jew nor Greek: there is neither bond nor free: there is neither male nor female, for you are all one in Christ Jesus:" [Gal. 3: 28].
Neither does the Church make any distinction between man and woman in the distribution of graces through the Sacraments, in the rites of beatification and canonization, in the cult of the saints, etc.
How do the worldly minded look upon woman today? As in the pagan era: a creature destined to satisfy the lusts of man. In conversation, in romances, in novels, in illustrated reviews, on the stage, on the screen, woman is appreciated only on account of her exterior endowments, for her ability to gratify the less noble instincts of man; a female not a woman, nor a lady. Indeed, except for the light of Christianity, woman is destined to lose her noble prerogatives, to abase herself and to become inferior to man, forced to serve him.
3. Man has specific duties toward woman:
(a) Not to do anything to offend the virtue of the honor of woman; nothing that we would not want done to our mother, our wife, or sister.
(b) To have a high regard for woman," not to look upon her as the pagans did; that is, as an inferior being, a plaything of man.
(c) To defend the virtue and the honor of woman," to uphold her in her weakness, to guide her, to correct her when necessary, so that she may not step down from her lofty station.
Medieval chivalry, inspired by Christianity, had among its precepts: "You will respect all weaknesses and you will constitute yourself a defender of them." We know that among the weaknesses to be respected and defended, woman held a prominent place. In this sense, every Christian must also be a perfect knight; for his program calls for the respect and the defense of woman.
The Redemption of the Child
1. Outside the light of Christianity, the weak are destined to be neglected, if not despised and trampled upon. This explains the lot not only of woman, but also of the child.
In the pagan family, just as the husband had absolute power over his wife, so had the father absolute power over his children; he could punish them at will, abuse them, sell them as slaves, or even put them to death. The famous apologist Tertullian, in the second century, wrote against the persecutors of Christians as follows: "Amongst so many men who thirst for the blood of Christians, how many are there that have not put to death one or more of their children; that have not caused them to die of cold or of hunger or exposed them as prey to dogs?"
In Rome, at the height of its civilization, the child, as soon as he was born, was placed on the ground at the feet of his father; if the latter took him up into his arms, that meant that he acknowledged him as his own and consented to support him; on the other hand, if he left him on the ground, that meant that he rejected him and accordingly he was left exposed on the public streets and no one bothered with him anymore. Thus abandoned, the poor, unfortunate creature could encounter no other fate but to perish of hunger or of cold, or to be devoured by dogs. At times, however, a still more tragic lot awaited him, for there were concessionaires of beggary who had the right to take possession of the abandoned child and mutilate it, in order to exploit it later on by putting it out to beg alms from the public. [So writes L. Garriguet in his book on the social value of the Gospel.] And does not the same thing happen today in some pagan countries?
2. Jesus has also lifted up this frailest of beings, the child, and He has done so in many ways:
(a) First of all, by becoming a child Himself, obedient to Joseph and Mary: "He was subject to them." [Lk. 2: 51]. "How can a Christian today fail to surround with regard and kindness this frail creature, if the Son of God Himself wished to put on such frailty? For the same reason, in the Christian family, the children are not considered heavy burdens, but sweet pledges of love." [Pius XII in the Encyclical Sertum Laetitiae].
(b) Jesus showed His predilection for children; He caressed them, blessed them, praised them, nay, more, He identified Himself with them by saying: "And he that shall receive one such little child in my name, receiveth me:" [Matt. 18: 5]. "And they brought to him young children, that he might touch them. And the disciples rebuked them that brought them. Whom when Jesus saw, he was much displeased, and saith to them: Suffer the little children to come unto me, and forbid them not; for such is the kingdom of God. Amen I say to you, whosoever shall not receive the kingdom of God as a little child, shall not enter into it. And embracing them, and laying his hands upon them, he blessed them:" [Mk. 10: 13-16]. No wonder, therefore, that the Church, heir to the spirit of Christ, has woven a marvelous net of educational and protective institutions for the benefit of childhood.
(c) St. Paul, after having exhorted children to obey their parents, adds: "And you, fathers, provoke not your children to anger, but bring them up in the discipline and correction of the Lord:" [Eph. 6: 4].
If the dignity of the child is so lofty, his education is the noblest of all arts and a most worthy action. Some people ask, as if scandalized: "Why did Jesus Christ keep Himself in the seclusion of His home in Nazareth until He was thirty years old? Could He not have spent this time to better advantage?"
We have just learned some of the wise motives for such seclusion: The restoration of the family through the redemption of marriage, of woman, and of children. Should not this be enough to account for and to make us appreciate the long retreat of Nazareth?
We should be grateful to the Divine Redeemer because, by the sacrifice of His hidden life, He chose to bring so many blessings to family life and, indirectly, to social life as well, since the family is truly the cell of society.
Taken from How Christ Changed the World by TAN Books & Publishers, Inc.
ABOUT THE AUTHOR
In the sphere of Catholic Action Monsignor Civardi stands out as exemplary because no one, it is safe to say, has done more to make known the mind of Holy Mother Church on this all-important subject, to edify and inspire the faithful, in order to spur them to action than Msgr. Civardi.
Fr. Civardi was ordained to the priesthood on April 17, 1911 in Pavia, Italy; two years later he was awarded the degree of Doctor of Philosophy from the Academy of St. Thomas in Rome. His first appointment was as Diocesan Assistant to Young Men's Catholic Action groups in Pavia. At the same he taught theology in the Diocesan Seminary. In 1924 he published his famous Manual of Catholic Action in two volumes, the first dealing with theory and the second with practice. This work has since gone through twelve editions and has been translated in sixteen languages. No book has contributed more to the spread of Catholic Action throughout the world.
The following year he was called to Rome by Pope Pius XI, the Pope of Catholic Action, who appointed him Ecclesiastical Assistant for the Central Office of Italian-Catholic Action. As head of the Catholic Action press he published the Official Monthly Bulletin and from 1931 to 1947 he was also editor and publisher of a monthly Catholic Action review known as The Ecclesiastical Assistant. In 1934 The Catholic Motion Picture Center was founded in Rome; it corresponded to the Legion of Decent in America and Msgr. Civardi was appointed its first Director. While in charge of this office he published two works, Motion Pictures and Catholics and Motion Pictures and Morals. In 1944 he became the National Spiritual Director of the "Association of Italian Christian Workers," which office he held until 1955. In recognition of his valuable services Pope Pius XII named him Director Emeritus of the "Associations of Italian Christian Workers" in 1955 and appointed him a Canon of the Vatican Chapter.
Fr. Civardi has written some thirty books, most of them on social questions. Next to social encyclicals and pronouncements of the Pontiffs, it would be hard to find a sounder, more authoritative or more succinct statement of the Catholic position on social questions than is to be found in this work of Msgr. Civardi.

Other pages discussing Catholic doctrine and history:

Our Lord Jesus Christ
The Sacred Heart of Jesus - Learn all about this beautiful devotion to Our Lord.
The Shroud of Our Lord - Discusses the convroversy over the Shroud of Turin - is it real or a forgery? Evidence points to its authenticity.
Infinite Mercy of Jesus - Learn how the Heart of Jesus has a strong desire to love and pardon sinners who sincerely return to Him.
The Blessed Virgin Mary
The Blessed Virgin Mary - Immaculate, pure, and our most powerful intercessor after Our Lord
The Holy Slavery - To Jesus, through Mary -- the same way Jesus came to us (through His Mother)
Edifying and Beautiful - Learn about God's Providence in regard to the Blessed Virgin Mary, her graces and merits, the details of her life!
Our Lady of Fatima - Her predictions and warning for the future.
Saints who Saw Mary - Tells the story of 17 great Saints who saw and heard the Blessed Mother, whom they were so devoted to!
History and Culture
Wearing Pants Incites Men to Lust - Learn how women's fashions have corrupted, how evil forces are behind most modern fashions, and much more! Includes practical advice.
How to Run a Catholic Family - Discusses how to bring the Catholic Faith into family life! How the family can best celebrate feast days, and make use of good Catholic customs.
A TRUE History Book - This premise of this history book: The coming of Jesus Christ was the most important event in history.
Catholic History Workbook - Fascinating; hard to put down! It makes more sense of History than secular books which explain things in a disjointed manner.
Homeschooling Workbook - With questions for every chapter of Christ in the Americas - multiple choice, fill in the blank, true/false, and more!
Crisis in the Church
Read about St. Athanasius - faithful and courageous, known as the "champion of orthodoxy". One of the 33 Doctors of the Church!
St. Athanasius - The great defender of the Catholic Faith against Arianism
Crisis in the Church - How the enemies of God plot to overthrow the Church from within.
Revolution in the Church - How Vatican II and its aftermath caused a crisis in the Catholic Church.
Freemasonry - Pope Leo XIII unmasks this evil society, and forbids all Catholics to join.
Combination of ALL Heresies - Pope St. Pius X unmasks the Modernists, giving us their doctrine and methods!
Vatican II - Impartially discusses what happened at Vatican II -- mostly quotes from the men that were there!
Fascinating if true - A man's deathbed confession.
St. Therese, the Little Flower
St. Therese the Little Flower - Under obedience, she tells the story of her childhood, religious life, etc.
Mother of St. Therese - Learn about the woman who raised 5 saintly daughters, all of which entered the religious life!
Father of St. Therese - Learn about the man who let the holy family of Lisieux so well, that his 5 daughters entered a convent!
From the Sister of St. Therese - In her biography, she writes many things not found in Story of a Soul.
Lives of the Saints
Learned Mystic and Theologian - St. John of the Cross suffered greatly, even prison, for the Carmelite Reform. Father of the Discalced Carmelites.
Beautiful story of a young girl - Anne de Guigne was clever and passionate, yet practiced humility and all the other virtues -- and she died at the age of 10.
Refuge for Billions of Catholics - Catholics have always prayed to these saints in their necessities. St. Blaise, St. Christopher, etc. Includes countless novenas!
St. Anne - Grandmother of Our Lord - According to Ven. Mary of Agreda, she possessed all the virtues, especially purity. Learn more about her!
Young Italian Maiden - Who suffered the Stigmata every Friday, and was pious from her youth. St. Gemma Galgani, called the "Gem of Christ"
Heroic Chastity - Read how St. Maria Goretti had to give up her life to preserve her purity! She is called the patroness of youth.
All Glory to Almighty God - Well documented cases of the miraculous taken from the lives of the Saints. Fascinating!
Defeated Persian Sorcerers - The glorious life of St. Jude Thaddeus, Apostle and cousin of Our Lord, as taken from ancient Catholic traditions.
Angels and Devils - Learn all that Scripture and Tradition teaches us about the pure spirits God created. Fascinating and enlightening!
Life of Mary Magdalen - Learn fascinating details of her life that you didn't know before! From the visions of Anne Catherine Emmerich.
The Angel of the Judgment - At a critical point in Church history, his preaching and miracles served as a warning of impending chastisement.
Miracles All His Life - The miraculous was very common in the life of St Gerard Majella, great saint and Patron of Expectant Mothers.
Eyewitness to Gospel events - Blessed Anne Catherine Emmerich saw so many biblical events in her visions. Be inspired and edified by her virtuous life!
United with Jesus Christ - She suffered for souls and for the Church, and received countless visions all her life. One man wrote down her visions for YOUR sake!
Never a Moment Wasted - this zealous missionary and client of Our Lady is a model for all Catholics. Read about his saintly life.
She saw her Guardian Angel - this innocent girl tells us the story of her saintly life -- beautiful, inspiring!
Servants of Satan Establish Paganism - Astrology, witchcraft, and countless systems of idolatry set up after the Confusion of Tongues.
Fervent Catholic Indians - Father De Smet was like an Apostle, suffering greatly to bring the True Religion to the Native American peoples.
Classic Sermons for Lent - On the Last Things, aimed at moving you to serve God even more faithfully. By St. Francis de Sales.
Those Who Met St. Padre Pio - Stories of conversions, miracles, etc. from those who met this living Crucifix. Recently canonized.
Beat Up by the Devil - This great Saint had prophetic visions in the form of dreams, and often physically struggled with the devil.
Life of St Gertrude - Our Lord appeared to her many times, and she was much loved by Him because of her purity.
Jesus Dearly Loved Her - Because of her love and confidence in him, her heart was His favorite place to dwell, after the Blessed Sacrament.
The Dolorous Passion - Giving never before seen details of Our Lord's Passion! From the visions of Anne Catherine Emmerich.
Braving the English Torture - St. Margaret Clitherow was a wife and mother - and she kept the Faith even to martyrdom!
Details of The Good Thief - Learn about his life with a gang of brigands, how he helped the Holy Family, and much more.
Classic Catholic Sermons - You won't fall asleep here! Sermons by a Doctor of the Church, filled with energy and the spirit of Faith.
Miracles Taking Place Today - St. Philomena is famous for the number of miracles surrounding her shrine - here are some of them.
Isabella of Spain - A holy Catholic queen, and a valiant defender of Christ's kingdom.
St Anthony - the Wonder Worker - His life was filled with proofs that God was with him.
St Vincent de Paul - famous for his charities, this great Saint was canonized only 77 years after his death!
The Cure of Ars - Three of him could destroy the devil's kingdom! Read about his physical struggles with Satan.
St. Rita - Nothing is impossible with God! Her life is an example for us all, especially to mothers.
Sermons of St. Francis de Sales - Here he speaks all about the kinds of prayer. Learn what (and what not) to do!
St. Teresa of Avila - She founded many convents, which were to adhere to the strict observance of the Carmelite Rule.
St. Elizabeth of Hungary - Known for her generosity to the poor
Alexandrina - A victim soul who suffered the Passion on Fridays
The Spiritual Life
Jesus, Prisoner of Love - Meditations on the most beautiful doctrine of the Catholic Faith - the Real Presence of Jesus in the Eucharist
Spiritual Exercises - Written by a great saint, these meditations have converted millions of souls.
Manual of the Spiritual Life - Your duties as a penitent toward your confessor/spiritual director.
Lessons from Calvary - 31 meditations on Our Lord's Passion that will help you to easily avoid sin.
Finding Peace of Heart - Only by knowing how to follow God's will, can a person be truly happy.
Strategy for Getting to Heaven - We must learn how the devil works on us, how to avoid his snares, to win the "War for our Souls".
How to Fight the Deadly Sins - Timeless advice on how to combat each of the Capital sins.
A Manual for Confession - How to benefit from the Sacrament of Penance: common pitfalls, scruples, how to make a good exam of conscience, and much more.
Seven Deadly Sins - Learn about the different forms of pride, avarice, lust, anger, envy, gluttony and sloth.
How to Pray Well - How we should pray to God - with confidence, perseverance, simplicity. Advice from St. Alphonsus Liguori!
Marriage & Family
How to Raise Good Catholic Children - With examples from the saints and wise and thoughtful commentary - a must-read for every parent!

Haunted by Children She Aborted - Testimony from her own mouth: how she had 7 abortions, and how her life changed afterward.

Catholic Doctrine on Marriage - Common sources of marital strife and how to avoid them, the differences between the sexes, periodic abstinence, and more.
Your Labor of Love - The author talks about isolation, sufferings, the modern culture, and more.
Spiritual Growth during Pregnancy - How expecting a child can bring a woman closer to God and the Blessed Virgin Mary. Includes much practical advice.
St. Joseph
St. Joseph - After Our Lady, the holiest mere man who ever lived
Privileges of St. Joseph - Why St. Joseph receives so much honor in the Church
Novenas to St. Joseph - Universal Patron - Pray to St. Joseph for all of your needs - Jesus, now in Heaven, still listens to him as a father!
The Last Things/Afterlife
Death, Judgment, Hell, Heaven - The Saints always thought about their last end, and so should we. Brings the reality of eternity before your eyes!
Life Everlasting - Discusses death, judgment, heaven and hell; also the vices and virtues
Beyond the Grave - What we know about Purgatory from sacred history and the lives of the saints.
Peaceful Rest or Almost Like Hell? - Discusses the two opposing Catholic viewpoints on the subject of Purgatory.
Purgatory - Learn what the Catholic Church has always taught on this subject.
What Will Hell be Like? - Discusses the sufferings of Hell in detail.
Eternity of Hell - Including a story from a soul who was sent there!
Catholic Doctrine and Dogma
What is Sanctifying Grace? - Learn all about the nature of Grace, what it does for us, how to increase it in our souls, and its importance.
Catholic Dogma of Grace - God's grace vs. man's ability to merit for his actions.
Sin and Forgiveness - True Catholic doctrine with quotes from Scripture and the Fathers.
The Intellect of the Angels - What Catholic theology says about the angels.

Simple Easy-to-Understand Catechism - For Catholics to better learn their faith, or to give to possible converts.
Sodomy Condemned - The Catholic Church has always condemned this unnatural vice - see proofs from the Magisterium, Church laws, Scripture, canons, and more!
The Mass Keeps the World in Existence - and other lofty considerations; helps Catholics appreciate the real value of the Mass.
The Catholic Mass - Why it is so priceless; relates actual events which prove it!
The Catholic Faith - Easy to read and follow, using the most solid Catholic doctrine. Very thorough.
What Does The Bible Say About Marriage? - Find all Bible quotes about "Anger", for example, gathered into one page.
Defending the Faith/Apologetics
The REAL Luther - From the pens of Protestant historians, and Luther's own (foul) mouth - learn about the real man.
The Faith of our Fathers - A topic-by-topic explanation of what the Catholic Faith teaches. Great for apologetics!
The Bible Explained - Why were all those various stories placed in the Bible for us to read? Here is why!
How Christ Changed Society - Compare the ancient world with the world influenced by Christ.
Scripture Alone for Salvation? - Even the Bible itself denies this! Read 21 compelling reasons why Tradition is also necessary.
The Bible is a Catholic book - Convincing arguments show clearly that criticism of the Catholic Church has no truthful basis! Excellent apologetics based on history.
Defend Catholic Dogmas - Find rational arguments for what Catholics believe.
Theory of Evolution
Evolution Hoax Debunked - A learned scientist discovers that there is no evidence FOR Evolution, but plenty AGAINST it!
Proofs against Evolution - Plenty of evidence against Evolution is out there, but it is often ignored by the media. Fascinating!
Evolution is a Fraud - So say countless biologists and scientists! Read more...
Novels
King of Jerusalem - Balwin IV of Jerusalem leads the Crusaders in this exciting novel.
Exciting Adventures - Tom Playfair and his friends at a Jesuit boarding school. Exciting, Catholic, fun!
More Catholic Adventures - written by Fr. Finn - Percy Wynn meets Tom Playfair and friends, and enters the boarding school (St. Maure's).
Perpetual Motion Boy - The Fr. Finn boarding school universe expands with Claude Lightfoot and other interesting characters.
That Football Game - written by Fr. Finn - Which is more important? English class, a math competition, or an upcoming football game?
Return to Catholic Doctrine Homepage