Catholic Search
Custom Search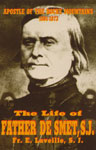 The Life of Father De Smet, S.J.

from Chapter 5
The Potawatomi Mission
Zeal for the salvation of souls, and profound humility (God could not resist his supplications) were the distinguishing traits of our missionary, and a few weeks later he was appointed to the Potawatomi Mission. Father De Smet left St. Louis May 10th, Father Verreydt and Brother Mazelli joining him at Leavenworth. In going up the Missouri he greatly admired the vast river, dotted with its many islands; the villages that rose one above the other on its banks, the towering rocks, the caves, the forests, and the immense prairies, all of which lent infinite variety to the aspect. But the scenic beauty failed to render agreeable a journey fraught with many dangers.
"I would rather cross the ocean," he writes, "than ascend the Missouri River. The current is so swift that in order to get up the river the boat must be heavily loaded and the steam at full pressure. Hence, the traveler is in imminent danger of being shot up into the air by an explosion, and coming down perhaps in bits. Added to this, we run upon sand-bars every day - a dangerous proceeding. Lastly, the river bristles with snags which tear a boat open, and are the terror of pilots and travelers. More than once we were in great peril from them."
Crowds of Indians came to the landing to greet the missionaries, and wherever the boat stopped for fuel the priests went ashore to visit the different villages. The chief of the Iowas, an old pupil of Father De Smet's at Florissant, wished to keep him with his tribe. An Indian convert, eighty-four years of age, prepared himself for death by confession, shedding, meanwhile, tears of repentance. Everywhere they were most cordially received.
The visit to the Otoes enabled Father De Smet to initiate himself in the ways of the savage. The following lines give us an idea of his impressions:
"The village is composed of several large mud huts, each containing about ten families, and several buffalo-hide tents reeking with vermin. The women slave for the men, and appear most miserable. Some are blind, others have only one eye, and all appear extremely dirty. Their dress consists of a skirt of deer-skin to the knee, with tunic, garters, and shoes of the same hide. The whole costume is greasy and black, as though they had wiped their hands on it for a century. Both men and women wear bracelets of polished metal, and five or six strings of china or glass beads around the neck.

"I was ushered into the large hut of the chief or king. The queen placed a cushion of deer-skin shiny with grease upon a still greasier cane mat, and made me signs to be seated. She then presented me with a roughly-cut wooden plate which I think had not seen water since it was made, and served me on it a dish of disgusting appearance, cooked by herself. Opposite me a dozen wolf-dogs, seated on their haunches, eyed my plate. They seemed to envy me my happiness, and showed willingness to aid me in disposing of the food.

"I was hungry, I admit; but my stomach revolted at the sight of that mysterious stew. I said to myself, 'No airs now, you are not in Belgium, begin your apprenticeship. When in Rome, do as the Romans do.' I took a spoonful of the mess and found it delicious. It was a fricasee of buffalo tongue, mixed with bear's grease and the flour of wild sweet potatoes. I evinced my appreciation of the princess' hospitality by rubbing my stomach as a sign of satisfaction, and returned the plate to her much cleaner than when she gave it to me."
The missionaries arrived at the Potawatomi camp May 31st. Nearly two thousand Indians, painted in every conceivable way, came to the landing. Father De Smet and his companions repaired at once to the tent of the great chief, a half-breed called William Caldwell, renowned for his prowess and his victories over the whites. The missionaries were cordially received and promised protection. The chief then offered them three tents near his. Colonel Kearny, representing the Government, put an abandoned fort at the disposition of the missionaries. There they celebrated Mass and assembled the neophytes, until a wooden church was erected in honor of St. Joseph, patron of the mission. The Indians at first received them coldly (1), but soon the missionaries got into touch with them, and Father De Smet was then able to discover their tastes and aptitudes, and the needs of their tribe.
(Footnote 1): "We were far from finding here the four or five hundred fervent Catholics they told us about in St. Louis. Of the 2,000 Potawatomies that came to the landing not one of them seemed to know why we had come, and appeared quite indifferent. Out of thirty half-breed families, only two came to shake hands with us. Very few had been baptized, and all of them are profoundly ignorant of the truths of our religion. They do not even know how to make the Sign of the Cross, nor say the Our Father and Hail Mary, and this accounts, I think, for the great reserve they maintained toward us." (Letter to Father Verhaegen, June, 1838.)
"Imagine numerous huts or tents constructed of upright poles covered with tree bark, buffalo hides, canvas, straw, and grass; dreary of aspect, and pitched pell-mell, with no regard to order or symmetry, and you have some idea of an Indian village." In these holes, for such they are, 3,000 savages lead a miserable existence. The women do all the rough work, while the men pass their time in playing cards and smoking the calumet; their sole occupation being war or hunting.
"For the most part, these Indians are content with a little dried beef and a pap made of pounded roasted corn. They are sober, less from virtue than necessity. When food is plentiful, either at home or abroad, they plunge their hands into the boiling pot and eat like ravenous wolves, and when filled, lie down and sleep. Their sole possessions are a few horses that graze at large on waste land. At his birth an Indian is enveloped in rags, and during infancy left under a buffalo hide. He is brought up in idleness, and abhors work. He has no desire to change or ameliorate his condition. Any Indian who would aspire to a greater degree of comfort, or to increase his fortune through his own efforts, would be the object of general hatred and jealousy. Moreover, all his possessions would be pillaged and confiscated."
And yet the Indians had redeeming qualities: "The Potawatomies are gentle and peaceful. There is neither rank nor privilege among them. The chief has no revenue save that which he procures with his lance, arrow, and rifle. His horse is his throne. He must be braver than his subjects; the first to attack, and the last to leave the field. In the division of spoils, he shares equally with the others. The greater number of the Indians can converse intelligently upon things that concern them. They like to joke and listen to chaff, they never dispute or lose their temper, and never interrupt any one. If the affair under discussion is serious, the Indian reflects before speaking, or defers his reply until the next day. They know no blasphemous words, and often years pass without an angry word being spoken. But when drunk - and now they get drink in large quantities - all the good qualities of the Indian disappear, and he no longer resembles man; one must flee from him. Their cries and howls are terrible; they fall upon each other, biting noses and ears, mutilating each other in a horrible manner. Since our arrival, four Otoes and three Potawatomies have been killed in these drunken orgies."
Besides idleness and drunkenness, the missionaries had to combat prejudice and abolish polygamy and superstitious practices. They had to master a difficult language and undertake the still more difficult task of trying to domesticate men accustomed to a wandering life, who complained if obliged to stay three months in the same place.
Father De Smet said: "It is a work of God," and such indeed it was. He begged earnestly the prayers of his Superiors and friends. To the Carmelites of Termonde he wrote: "Here I have been for three months in the midst of the Indians. If it is your prayers that have obtained this favor for me, I beg you to ask that I may have courage, humility, fervor, patience, and the other virtues which make a good missionary."
Success soon crowned his efforts. Before the close of 1838 Father De Smet was able to write: "A great number of Indians have asked to be instructed. We have opened a school, but, for the want of a large hut, we can only receive thirty children. Twice a day instructions are given to those preparing for Baptism. We have already administered the Sacrament to one hundred and eighteen Indians; one hundred and five of this number I had to consolation of baptizing myself.
"The Feast of the Assumption will long be remembered by the Potawatomies. The church in which Mass was said was perhaps the poorest in the world. Twelve neophytes, who three months before had no knowledge of God's laws, chanted the Mass in a most edifying manner. Father Verreydt preached upon devotion to the Blessed Virgin. I followed with an instruction upon the necessity of baptism. I explained its ceremonies, and then administered the Sacrament to twenty adults, among whom was the wife of the great chief.
"After Mass I blessed four marriages. In the evening we visited the newly-converted families, who had all assembled and were thanking God for the graces received during the day, and now these good people traverse the country to induce their friends and relatives to be instructed and share their happiness. Several Indian women, whose relatives, being still pagan, refused to receive us, dragged themselves a distance of two or three miles to ask for baptism before dying."
The good dispositions evinced by the Indians encouraged Father De Smet to exert himself to the utmost in their behalf. "Often," he writes, "I visited the Indians in their huts either as missionary, when they seemed disposed to listen to me, or in the capacity of a physician to minister to their sick. When I find a child in danger whose parents are ill-disposed toward religion, I take out my bottles and recommend certain medicines. I begin by rubbing the child with camphor; then taking water, I baptize it before their unsuspecting eyes, and thus open heaven to the innocent soul."
The shiftlessness and filth of the Indians often occasioned epidemics; some tribes had as many as a thousand sick, and at such times the missionaries were dreadfully overworked. Each day Father De Smet visited a new village, carrying remedies and words of encouragement to the victims of the plague. His charity bore fruit in new conversions. Writing to his brother, he says: "I have baptized nearly two hundred Indians, and we now have three hundred converts. I can truthfully say they are all fervent Christians. Their greatest happiness is to assist at daily Mass and instruction, and receive holy communion. Several chiefs and their families have embraced the faith. I baptized an old man a hundred and ten years of age."
Protestant ministers tried to compete with the Catholic priests; but between a salaried official who distributed tracts to inquisitive members of the tribe, and the missionary, devoted body and soul to their interests, the Indians did not hesitate to make a choice. They refused the most alluring offers from Protestants and came from all directions to ask for a Black Robe to show them the way to heaven.
One day three chiefs of the Pawnee-Loups came to beg the Jesuits to visit their tribe. Noticing that the priests made the Sign of the Cross before eating, they, upon their return, instituted this practice in all the Indian villages. This delegation was followed by the chiefs of the Omahas, accompanied by forty warriors, who, making their followers a sign to wait, approached the missionary and executed the dance of friendship.
Father De Smet thanked God for the success that crowned his labors, and expressed his gratitude to his Superiors for appointing him to this mission. "We suffer, of course, many privations in this far distant country; but God will never be outdone in generosity. He rewards a hundredfold the smallest sacrifices we make for Him, and if our trials are heavy, our consolations are very great. I thank God every day for having sent me to this country."
The little community at Council Bluffs suffered many privations. To the fatigues of the ministry was added the anxiety of providing for their daily existence. Brother Mazelli, in his capacity of physician and surgeon, was in constant attendance upon the sick. Fathers Verreydt and De Smet chopped wood, cooked the meals, and mended their clothes. The distance from St. Louis, and the difficulty of communication interfered greatly with obtaining food supplies. The mission was often without the necessities of life.
In the spring of 1839 their distress was extreme, their whole nourishment for weeks consisting of acorns and wild roots. At last, on April 20th, the provision boat was sighted. Father De Smet hurriedly departed with two carts to get the mission supply. A cruel disappointment awaited them. At the moment of landing, the boat, striking a snag, was wrecked. The missionary arrived in time to see it sink before his eyes. A saw, a plow, a pair of boots, and some wine were all that was saved. But even this disaster did not disturb Father De Smet's habitual serenity. "Providence," he said, "is still kind to us. The plow has enabled us to sow a good crop of corn. Thanks to the saw, we can now build a better house and enlarge our church, which is too small; and with the boots I can tramp the prairies and woods without fear of being bitten by snakes. The wine permits us to offer to God the sacrifice of the Mass, a happiness we have long been deprived of. We returned courageously to our acorns and roots until May 30th."

Taken from The Life of Father De Smet, S.J. by TAN Books & Publishers, Inc.
Other pages discussing Catholic doctrine and history:

Our Lord Jesus Christ
The Sacred Heart of Jesus - Learn all about this beautiful devotion to Our Lord.
The Shroud of Our Lord - Discusses the convroversy over the Shroud of Turin - is it real or a forgery? Evidence points to its authenticity.
Infinite Mercy of Jesus - Learn how the Heart of Jesus has a strong desire to love and pardon sinners who sincerely return to Him.
The Blessed Virgin Mary
The Blessed Virgin Mary - Immaculate, pure, and our most powerful intercessor after Our Lord
The Holy Slavery - To Jesus, through Mary -- the same way Jesus came to us (through His Mother)
Edifying and Beautiful - Learn about God's Providence in regard to the Blessed Virgin Mary, her graces and merits, the details of her life!
Our Lady of Fatima - Her predictions and warning for the future.
Saints who Saw Mary - Tells the story of 17 great Saints who saw and heard the Blessed Mother, whom they were so devoted to!
History and Culture
Wearing Pants Incites Men to Lust - Learn how women's fashions have corrupted, how evil forces are behind most modern fashions, and much more! Includes practical advice.
How to Run a Catholic Family - Discusses how to bring the Catholic Faith into family life! How the family can best celebrate feast days, and make use of good Catholic customs.
A TRUE History Book - This premise of this history book: The coming of Jesus Christ was the most important event in history.
Catholic History Workbook - Fascinating; hard to put down! It makes more sense of History than secular books which explain things in a disjointed manner.
Homeschooling Workbook - With questions for every chapter of Christ in the Americas - multiple choice, fill in the blank, true/false, and more!
Crisis in the Church
Read about St. Athanasius - faithful and courageous, known as the "champion of orthodoxy". One of the 33 Doctors of the Church!
St. Athanasius - The great defender of the Catholic Faith against Arianism
Crisis in the Church - How the enemies of God plot to overthrow the Church from within.
Revolution in the Church - How Vatican II and its aftermath caused a crisis in the Catholic Church.
Freemasonry - Pope Leo XIII unmasks this evil society, and forbids all Catholics to join.
Combination of ALL Heresies - Pope St. Pius X unmasks the Modernists, giving us their doctrine and methods!
Vatican II - Impartially discusses what happened at Vatican II -- mostly quotes from the men that were there!
Fascinating if true - A man's deathbed confession.
St. Therese, the Little Flower
St. Therese the Little Flower - Under obedience, she tells the story of her childhood, religious life, etc.
Mother of St. Therese - Learn about the woman who raised 5 saintly daughters, all of which entered the religious life!
Father of St. Therese - Learn about the man who let the holy family of Lisieux so well, that his 5 daughters entered a convent!
From the Sister of St. Therese - In her biography, she writes many things not found in Story of a Soul.
Lives of the Saints
Learned Mystic and Theologian - St. John of the Cross suffered greatly, even prison, for the Carmelite Reform. Father of the Discalced Carmelites.
Beautiful story of a young girl - Anne de Guigne was clever and passionate, yet practiced humility and all the other virtues -- and she died at the age of 10.
Refuge for Billions of Catholics - Catholics have always prayed to these saints in their necessities. St. Blaise, St. Christopher, etc. Includes countless novenas!
St. Anne - Grandmother of Our Lord - According to Ven. Mary of Agreda, she possessed all the virtues, especially purity. Learn more about her!
Young Italian Maiden - Who suffered the Stigmata every Friday, and was pious from her youth. St. Gemma Galgani, called the "Gem of Christ"
Heroic Chastity - Read how St. Maria Goretti had to give up her life to preserve her purity! She is called the patroness of youth.
All Glory to Almighty God - Well documented cases of the miraculous taken from the lives of the Saints. Fascinating!
Defeated Persian Sorcerers - The glorious life of St. Jude Thaddeus, Apostle and cousin of Our Lord, as taken from ancient Catholic traditions.
Angels and Devils - Learn all that Scripture and Tradition teaches us about the pure spirits God created. Fascinating and enlightening!
Life of Mary Magdalen - Learn fascinating details of her life that you didn't know before! From the visions of Anne Catherine Emmerich.
The Angel of the Judgment - At a critical point in Church history, his preaching and miracles served as a warning of impending chastisement.
Miracles All His Life - The miraculous was very common in the life of St Gerard Majella, great saint and Patron of Expectant Mothers.
Eyewitness to Gospel events - Blessed Anne Catherine Emmerich saw so many biblical events in her visions. Be inspired and edified by her virtuous life!
United with Jesus Christ - She suffered for souls and for the Church, and received countless visions all her life. One man wrote down her visions for YOUR sake!
Never a Moment Wasted - this zealous missionary and client of Our Lady is a model for all Catholics. Read about his saintly life.
She saw her Guardian Angel - this innocent girl tells us the story of her saintly life -- beautiful, inspiring!
Servants of Satan Establish Paganism - Astrology, witchcraft, and countless systems of idolatry set up after the Confusion of Tongues.
Fervent Catholic Indians - Father De Smet was like an Apostle, suffering greatly to bring the True Religion to the Native American peoples.
Classic Sermons for Lent - On the Last Things, aimed at moving you to serve God even more faithfully. By St. Francis de Sales.
Those Who Met St. Padre Pio - Stories of conversions, miracles, etc. from those who met this living Crucifix. Recently canonized.
Beat Up by the Devil - This great Saint had prophetic visions in the form of dreams, and often physically struggled with the devil.
Life of St Gertrude - Our Lord appeared to her many times, and she was much loved by Him because of her purity.
Jesus Dearly Loved Her - Because of her love and confidence in him, her heart was His favorite place to dwell, after the Blessed Sacrament.
The Dolorous Passion - Giving never before seen details of Our Lord's Passion! From the visions of Anne Catherine Emmerich.
Braving the English Torture - St. Margaret Clitherow was a wife and mother - and she kept the Faith even to martyrdom!
Details of The Good Thief - Learn about his life with a gang of brigands, how he helped the Holy Family, and much more.
Classic Catholic Sermons - You won't fall asleep here! Sermons by a Doctor of the Church, filled with energy and the spirit of Faith.
Miracles Taking Place Today - St. Philomena is famous for the number of miracles surrounding her shrine - here are some of them.
Isabella of Spain - A holy Catholic queen, and a valiant defender of Christ's kingdom.
St Anthony - the Wonder Worker - His life was filled with proofs that God was with him.
St Vincent de Paul - famous for his charities, this great Saint was canonized only 77 years after his death!
The Cure of Ars - Three of him could destroy the devil's kingdom! Read about his physical struggles with Satan.
St. Rita - Nothing is impossible with God! Her life is an example for us all, especially to mothers.
Sermons of St. Francis de Sales - Here he speaks all about the kinds of prayer. Learn what (and what not) to do!
St. Teresa of Avila - She founded many convents, which were to adhere to the strict observance of the Carmelite Rule.
St. Elizabeth of Hungary - Known for her generosity to the poor
Alexandrina - A victim soul who suffered the Passion on Fridays
The Spiritual Life
Jesus, Prisoner of Love - Meditations on the most beautiful doctrine of the Catholic Faith - the Real Presence of Jesus in the Eucharist
Spiritual Exercises - Written by a great saint, these meditations have converted millions of souls.
Manual of the Spiritual Life - Your duties as a penitent toward your confessor/spiritual director.
Lessons from Calvary - 31 meditations on Our Lord's Passion that will help you to easily avoid sin.
Finding Peace of Heart - Only by knowing how to follow God's will, can a person be truly happy.
Strategy for Getting to Heaven - We must learn how the devil works on us, how to avoid his snares, to win the "War for our Souls".
How to Fight the Deadly Sins - Timeless advice on how to combat each of the Capital sins.
A Manual for Confession - How to benefit from the Sacrament of Penance: common pitfalls, scruples, how to make a good exam of conscience, and much more.
Seven Deadly Sins - Learn about the different forms of pride, avarice, lust, anger, envy, gluttony and sloth.
How to Pray Well - How we should pray to God - with confidence, perseverance, simplicity. Advice from St. Alphonsus Liguori!
Marriage & Family
How to Raise Good Catholic Children - With examples from the saints and wise and thoughtful commentary - a must-read for every parent!

Haunted by Children She Aborted - Testimony from her own mouth: how she had 7 abortions, and how her life changed afterward.

Catholic Doctrine on Marriage - Common sources of marital strife and how to avoid them, the differences between the sexes, periodic abstinence, and more.
Your Labor of Love - The author talks about isolation, sufferings, the modern culture, and more.
Spiritual Growth during Pregnancy - How expecting a child can bring a woman closer to God and the Blessed Virgin Mary. Includes much practical advice.
St. Joseph
St. Joseph - After Our Lady, the holiest mere man who ever lived
Privileges of St. Joseph - Why St. Joseph receives so much honor in the Church
Novenas to St. Joseph - Universal Patron - Pray to St. Joseph for all of your needs - Jesus, now in Heaven, still listens to him as a father!
The Last Things/Afterlife
Death, Judgment, Hell, Heaven - The Saints always thought about their last end, and so should we. Brings the reality of eternity before your eyes!
Life Everlasting - Discusses death, judgment, heaven and hell; also the vices and virtues
Beyond the Grave - What we know about Purgatory from sacred history and the lives of the saints.
Peaceful Rest or Almost Like Hell? - Discusses the two opposing Catholic viewpoints on the subject of Purgatory.
Purgatory - Learn what the Catholic Church has always taught on this subject.
What Will Hell be Like? - Discusses the sufferings of Hell in detail.
Eternity of Hell - Including a story from a soul who was sent there!
Catholic Doctrine and Dogma
What is Sanctifying Grace? - Learn all about the nature of Grace, what it does for us, how to increase it in our souls, and its importance.
Catholic Dogma of Grace - God's grace vs. man's ability to merit for his actions.
Sin and Forgiveness - True Catholic doctrine with quotes from Scripture and the Fathers.
The Intellect of the Angels - What Catholic theology says about the angels.

Simple Easy-to-Understand Catechism - For Catholics to better learn their faith, or to give to possible converts.
Sodomy Condemned - The Catholic Church has always condemned this unnatural vice - see proofs from the Magisterium, Church laws, Scripture, canons, and more!
The Mass Keeps the World in Existence - and other lofty considerations; helps Catholics appreciate the real value of the Mass.
The Catholic Mass - Why it is so priceless; relates actual events which prove it!
The Catholic Faith - Easy to read and follow, using the most solid Catholic doctrine. Very thorough.
What Does The Bible Say About Marriage? - Find all Bible quotes about "Anger", for example, gathered into one page.
Defending the Faith/Apologetics
The REAL Luther - From the pens of Protestant historians, and Luther's own (foul) mouth - learn about the real man.
The Faith of our Fathers - A topic-by-topic explanation of what the Catholic Faith teaches. Great for apologetics!
The Bible Explained - Why were all those various stories placed in the Bible for us to read? Here is why!
How Christ Changed Society - Compare the ancient world with the world influenced by Christ.
Scripture Alone for Salvation? - Even the Bible itself denies this! Read 21 compelling reasons why Tradition is also necessary.
The Bible is a Catholic book - Convincing arguments show clearly that criticism of the Catholic Church has no truthful basis! Excellent apologetics based on history.
Defend Catholic Dogmas - Find rational arguments for what Catholics believe.
Theory of Evolution
Evolution Hoax Debunked - A learned scientist discovers that there is no evidence FOR Evolution, but plenty AGAINST it!
Proofs against Evolution - Plenty of evidence against Evolution is out there, but it is often ignored by the media. Fascinating!
Evolution is a Fraud - So say countless biologists and scientists! Read more...
Novels
King of Jerusalem - Balwin IV of Jerusalem leads the Crusaders in this exciting novel.
Exciting Adventures - Tom Playfair and his friends at a Jesuit boarding school. Exciting, Catholic, fun!
More Catholic Adventures - written by Fr. Finn - Percy Wynn meets Tom Playfair and friends, and enters the boarding school (St. Maure's).
Perpetual Motion Boy - The Fr. Finn boarding school universe expands with Claude Lightfoot and other interesting characters.
That Football Game - written by Fr. Finn - Which is more important? English class, a math competition, or an upcoming football game?
Return to Catholic Doctrine Homepage