Catholic Search
Custom Search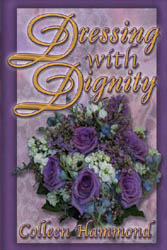 Dressing with Dignity
from Chapter 3 — Corruption of Fashions
"And the eyes of them both were opened: and when they perceived themselves to be naked, they sewed together fig leaves, and made themselves aprons... And the Lord God made for Adam and his wife, garments of skins, and clothed them." - (Genesis 3:7, 21)

Evidently, the "aprons" that Adam and Eve made for themselves didn't provide enough coverage in God's eyes, so He made them garments of skins and dressed them properly. Have you ever wondered what those skin garments looked like? You can bet they weren't those skimpy "Tarzan-and-Jane" outfits seen in the movies.
In the verses from Genesis cited above, the Latin Vulgate uses the word tunicas. Even for someone not well versed in Latin, I think it's obvious that that word means "tunic." The Hebrew word used is ktnvt, the root of which means "cover."
Tunics of pre-Christian biblical and ancient Roman times were flowing garments that extended past the knees and covered the arms and shoulders. I feel pretty confident that, after that whole embarrassing issue in the Garden with the Serpent, Adam and Eve made sure their children and grandchildren all dressed modestly.
Adam and Eve lived long enough to see many generations of their children grow up and have children of their own. Scripture tells us that Adam died shortly before Noah was born. Imagine Adam and Eve's grief at having to watch their children grow up, knowing that, because of their sin, their children would never experience anything like Adam and Eve had in the Garden of Eden. Right down to today, children often have to suffer because of the sins and mistakes of their parents.
I think that another outcome from that incident in Paradise is that women have an inordinate interest in clothing. Yes, we can't deny it! I can just imagine women in Moses' day gossiping about what the other women were wearing. Not only that: simply consider how much and how often women's fashions change compared to men's. But that doesn't mean that men don't have their own frivolous pastimes. Look at how many men have gotten overly involved in competition and sports, sometimes to the exclusion of everything else. ESPN. Need I say more?
I think it's because of women's interest in clothing that we even have a record to trace. There are historians who have kept track of this stuff! Let's take a look.
From the time of Adam and Eve, men and women have dressed with dignity. Straight through the era of Noah, Abraham, Isaac, Jacob, Moses and King David, women all wore long, flowing, graceful "tunics" that covered their shoulders and usually their arms and extended to the ground, and they would wear some sort of veil to cover their heads.
Early pagan Greek women wore long flowing robes and gowns, with their heads covered wiht some sort of veil or hair ornament. The garment was called a chiton (begins with a "k" sound and rhymes with "tighten"). The basic male garment was also the chiton, but it was usually only knee-length. The chiton was made of a rectangle of fabric which was fastened at the shoulders and belted at the waist. The garment could be either sleeved or sleeveless. Both styles were very graceful.
In Rome, the women wore a floor-length sleeveless tunic (men wore a knee-length tunic), over which they wore a floor-length stola, which was a tunic-type garment with sleeves. It was belted at the waist, and in public they would finish off their outfit with an elegant veil.
Basic styles in the Christian West didn't change much for centuries. From the historically accepted "Fall of Rome" in 476 A.D. until the time of the Crusades, the wealthier women wore elegant gowns that reached the floor, complete with long sleeves and often a veil, especially for married women. Marriage often meant a change in hair style too: from loose and flowing to pinned up in some type of a bun. Women would sometimes wear two tunic-type garments, one over the other.
The veil was worn over a wimple, a piece of white fabric which covered the head and neck and sometimes even the chin. Cloistered nuns still wear a wimple (as in photos of St. Therese of Lisieux.) The Collettine Poor Clares simplified their wimple in the early 20th century so that it no longer covers their chin.
A "girdle," which was a belt or sash worn over the tunic, was gracefully wrapped around the waist or over the hips.
It wasn't until the late 1500's that fashions became more ornate, although the basic clothing remained the same: long gowns, long sleeves, with some sort of head-covering. Think of "Elizabethan England," with the ruffle around the neck and large "leg-of-mutton" sleeves, and you'll get a good idea of what they were wearing during that time period. Lots of attractive embroidery and beautiful decoration were also included on the clothing. Instead of wimples, women wore fancy head-dresses of various styles, sometimes with a veil attached to the back.
Around this time, the corset was introduced. This was a stiff undergarment that shaped the bodice and narrowed the waist. The corset would become one of the classic elements of women's clothing. In some fashion eras, it was used in order to achieve a very tiny waist size.
A "fashion revolution" took place around the time of the French Revolution (1789-1804) and Napoleon Bonaparte (1804-1815), with Napoleon's wife Josephine setting a trend of high-waisted dresses with straight, boyish silhouettes and flattened bust lines. This is also the "Jane Austen" look, as seen in movies like Pride and Prejudice and Sense and Sensibility: high waist, low-cut bodice, long straight skirt, long narrow sleeves or short puffy sleeves or a combination of both. Also notable in women's clothing at this time period were more masculine trimmings and accessories, such as top hats instead of bonnets, and military braid on their garments. This "fashion revolution" didn't last long, as women's fashions soon returned to their traditional styles.
In the young United States of America at this time, waistlines were usually at the natural waistline and styles were fancy. Men were wearing ruffled shirts, tight knee-breeches and powdered wigs, as seen in portraits of George Washington.
In the mid-1800's, skirts became very full, with hoops and crinoline petticoats underneath. Photos of ladies during the Civil War show this style. Men were wearing top hats. Then came the bustle at the back of the dress. A few years later before and after the year 1900, the styles featured wide shoulders with large (sometimes enormous) sleeves, and tiny waists. (There's the corset again!)
Incidentally, in all of this discussion about fashions, we're talking about what is worn by good women, which has historically meant women who are chaste, whether married or unmarried. On the other hand, women who are making a living by living an openly unchaste life have historically worn clothing that is intentionally immodest and sexually provocative.
At the beginning of the 1900's, the styles start to look a little more familiar to us, a little more "modern." Hemlines move up a few inches above the ankle, and fashions are overall simpler than before.
You'll notice that one theme has remained constant in women's fashions during the six thousand years of human history: Women wore loose, flowing, feminine gowns that reached the floor, usually with long sleeves and some sort of head covering or hair ornament. But fashions were about to change radically, and not just in the amount of fullness or the length of the skirt. So what happened?
Women's clothing trends followed roughly the same pattern as the trends in society (and helped to shape those trends.) Social scientists point to the Industrial Revolution (starting roughly around 1800) - which enabled women to work outside the home. Then in the year 1920, the 19th Amendment to the Constitution was passed, giving women the right to vote. The Roaring Twenties were the period when we start to see a dramatic departure from the classic style of dressing!
Short hair and the boyish silhouette of the flapper look, with skirts raised to the knees and sleeveless bodices, emerged for women. But where did those unprecedented styles and ideas come from? Certainly not from the past few thousand years of human history. Yes, the times were changing - but one particular woman pushed them to change faster.
Gabrielle Bonheur Chanel, who would become famous under the name of Coco Chanel, played a very important role in the change of women's fashions. It has been said that she revolutionized women's fashions. By the way, the perfume "Chanel No. 5" was named after Coco Chanel.
Coco Chanel's personal life was tragic, beginning with the death of her mother and abandonment by her father by the time she was 12. At 17, she moved to an orphanage run by nuns. Later, she picked up her nickname when she went through a short career as a dancer, actress and cabaret singer. Her affair with a wealthy man financed her first hat business, located in Paris.
Another boyfriend, Arthur ("Boy") Capel, financed her expansion from hats to clothing. Her early fashions were women's clothing made out of wool jersey (stretchy knit fabric, not woven) - which had been used only for men's underwear - and she used it to make clingy dresses. Those sexy, clingy styles brought her the beginning of her success. Coco would also make outfits for herself out of men's sport coats and ties.
During World War I (1914-1918), the German occupation of Northern France meant the fashion business in Paris was cut off for some years. But shortly after the Great War, Chanel was back in business. By the 1920's, Chanel's fashion house had expanded considerably, and her short, straight dress set a fashion trend with its "little boy" look.
One evening, Coco accidentally scorched her hair with a curling iron before going to the Paris Opera. She cut her hair very short and went to the opera anyway. Her short hair style, known as "bobbed" hair, became a trend.
About that same time, designers Yves Saint-Laurent and Courreges introduced dressy pantsuits for women. However, nearly all women rejected the idea of wearing pants, and designers didn't try that again until much later.
As mentioned, Coco Chanel was very influential on the fashion scene. In addition to the bobbed hairstyle and the unisex style of dressing, she introduced the "little black dress," the use of clingy knits, slacks (in her own wardrobe) and women's bathing suits. Wait...bathing suits? That's right.
The ancient Greeks and Romans practiced "bathing" (swimming) in bath houses. These places became recreational centers where men would also meet, discuss current events, etc. Bathing for men and women was separate, and mixed bathing was even condemned by Emperors Hadrian and Marcus Aurelius, and in the Eastern Roman Empire by Justinian I. Some may say that it was different in Ancient Rome since people swam in the nude - but have you been to the beach lately? What I've seen some women wearing isn't that far from nudity!
Separate bath houses for men and women continued in one form or another through the centuries. By the 1400's, mixed swimming occurred in some establishments, and these places were known for their promiscuity. Mixed bath houses were considered hotbeds of vice, as only women with loose morals would swim in mixed company. Actually, the word "stew" originally meant bath house but came to be another name for a brothel.
Over the centuries, respectable bath houses continued to be separate. Before the mid-18th century, mixed swimming was condemned by Catholics, Protestants, Jews and Muslims as an occasion for vice. From the latter half of the 1800's, women who went bathing - usually outdoors - wore an elaborate bathing outfit which included sleeves, a skirt, and loose pantaloons to below the knee. The fabric used was basically the same heavy fabric used in other clothing - so today we would hardly even consider such an outfit a "real" bathing suit.
But Coco Chanel introduced a bathing suit made out of lightweight, clingy jersey; it still had long sleeves, extended past the knees, and was covered by a long skirt. This sounds like plenty of coverage to us now, but back then the suit caused quite a stir...and a fair share of scandal.
In 1931, movie mogul Ssamuel Goldwin hired Chanel as fashion manager for the stars. However, the divas of the day apparently did not like Chanel's unglamorous clothing. Also, filmgoers wanted to escape the Depression by watching movies that featured stars wearing beautiful clothing. Due to her affair with a German officer, Chanel fell out of favor. She spent 15 years in Switzerland in exile.
During World War II (1939-1945), women in the U.S. worked in factories, where they would wear trousers and coveralls. But outside of the workplace, women kept their feminine style of dressing.
In 1946, a bomb was dropped in the fashion world. It was called the bikini. I always wondered where the name "bikini" came from, and amazingly enough, I found out through an article written in 1997 by Steve Rushin in Sports Illustrated.
Rushin relates that Louis Reard, a French automotive engineer who was running his mother's lingerie business, named his new two-piece, "atom-sized" swimsuit after the testing site of the atomic bomb in the Pacific Ocean: Bikini Atoll. Since the bikini was so tiny, none of the models in Paris would wear it on the fashion runways. So, according to Rushin, Reard hired Micheline Bernardini, whose regular job was as a nude dancer at the Casino de Paris. She "had no qualms" about strolling down the runway in this bathing suit.
Rushin continues:

The world took notice. In Catholic countries - Spain, Portugal, and Italy - The bikini was banned. Decency leagues pressured Hollywood to keep it out of the movies. One writer said it's a "two piece bathing suit which reveals everything about a girl except for her mother's maiden name."
At first, the bikini was rejected in the U.S. by the "prudish Americans," and a 1954 issue of Vogue magazine featured a swimsuit with matching jacket as "still another way of looking dressed, not undressed." As recently as 1957, Modern Girl magazine sniffed, "It is hardly necesary to waste words over the so-called bikini, since it is inconceivable that any girl with tact and decency would ever wear such a thing."
Other bikini "landmarks" in the U.S. would be the song "Itsy Bitsy Teenie Weenie Yellow Polka Dot Bikini," which came out in 1960, and the movie Beach Party, starring Annette Funicello and Frankie Avalon (1963). This movie, which was followed by several sequels, featured young women dancing in bikinis on screen. Interestingly, Annette Funicello herself refused to wear a bikini in any of her movies, though she occasionally wore a two-piece suit. Her fellow actress, Donna Loren, also refused, saying, "I don't believe in going up there, sticking a bikini on and shaking around."
(... Several paragraphs ommitted ...)
Advertising agencies quickly prepared marketing research to find out the reaction of men to a woman wearing pants. Do you know what they found? Using newly developed technology, they tracked the path that a man's eyes take when looking at a woman in pants. They found that when a man looked at a woman in pants from the back, he looked directly at her bottom. When he looked at a woman wearing pants from the front, advertisers found that his eyes dropped directly to a woman's most private and intimate area. Not her face! Not her chest!
Advertisers figured out a long time ago how to apply Gestalt psychology and the Law of Closure and the Law of Good Continuation when divising advertising that is aimed at men. Gracious, what does all of that mean? It means that the eye will follow a line, and a viewer will complete the picture with his or her imagination. Think of the little AOL logo man. A stick figure, right? But we all know what he's doing.
Advertisers know that the same holds true when a man views a woman wearing slacks or a skirt with slits. Men's eyes will follow the lines right up her legs and finish the picture in their imagination. Women's eyes may do the same thing, but since women don't have the same type of temptations, their imaginations don't complete the picture in the same way as men's do.
I have received letters and emails from men who had read the first edition of the book and wanted me to tell women that they didn't need that marketing study to tell them what they already knew: When a woman is wearing pants, a man's eyes will (much to his embarrassment) fall to a woman's crotch. These men also pointed out that it is something that happens without their wanting to do it, or without their realizing it. It's the nature of men "to look" ... and they do! By the way, you'll notice that, in ads, models in trousers will sit with their legs far apart. This isn't being done by accident.
For the rest of the chapter which discusses fashion trends from 1960 - present, plus 6 MORE fascinating chapters, visit TANBooks.com!
Taken from Dressing with Dignity by TAN Books & Publishers, Inc.

Other pages discussing Catholic doctrine and history:

Our Lord Jesus Christ
The Sacred Heart of Jesus - Learn all about this beautiful devotion to Our Lord.
The Shroud of Our Lord - Discusses the convroversy over the Shroud of Turin - is it real or a forgery? Evidence points to its authenticity.
Infinite Mercy of Jesus - Learn how the Heart of Jesus has a strong desire to love and pardon sinners who sincerely return to Him.
The Blessed Virgin Mary
The Blessed Virgin Mary - Immaculate, pure, and our most powerful intercessor after Our Lord
The Holy Slavery - To Jesus, through Mary -- the same way Jesus came to us (through His Mother)
Edifying and Beautiful - Learn about God's Providence in regard to the Blessed Virgin Mary, her graces and merits, the details of her life!
Our Lady of Fatima - Her predictions and warning for the future.
Saints who Saw Mary - Tells the story of 17 great Saints who saw and heard the Blessed Mother, whom they were so devoted to!
History and Culture
Wearing Pants Incites Men to Lust - Learn how women's fashions have corrupted, how evil forces are behind most modern fashions, and much more! Includes practical advice.
How to Run a Catholic Family - Discusses how to bring the Catholic Faith into family life! How the family can best celebrate feast days, and make use of good Catholic customs.
A TRUE History Book - This premise of this history book: The coming of Jesus Christ was the most important event in history.
Catholic History Workbook - Fascinating; hard to put down! It makes more sense of History than secular books which explain things in a disjointed manner.
Homeschooling Workbook - With questions for every chapter of Christ in the Americas - multiple choice, fill in the blank, true/false, and more!
Crisis in the Church
Read about St. Athanasius - faithful and courageous, known as the "champion of orthodoxy". One of the 33 Doctors of the Church!
St. Athanasius - The great defender of the Catholic Faith against Arianism
Crisis in the Church - How the enemies of God plot to overthrow the Church from within.
Revolution in the Church - How Vatican II and its aftermath caused a crisis in the Catholic Church.
Freemasonry - Pope Leo XIII unmasks this evil society, and forbids all Catholics to join.
Combination of ALL Heresies - Pope St. Pius X unmasks the Modernists, giving us their doctrine and methods!
Vatican II - Impartially discusses what happened at Vatican II -- mostly quotes from the men that were there!
Fascinating if true - A man's deathbed confession.
St. Therese, the Little Flower
St. Therese the Little Flower - Under obedience, she tells the story of her childhood, religious life, etc.
Mother of St. Therese - Learn about the woman who raised 5 saintly daughters, all of which entered the religious life!
Father of St. Therese - Learn about the man who let the holy family of Lisieux so well, that his 5 daughters entered a convent!
From the Sister of St. Therese - In her biography, she writes many things not found in Story of a Soul.
Lives of the Saints
Learned Mystic and Theologian - St. John of the Cross suffered greatly, even prison, for the Carmelite Reform. Father of the Discalced Carmelites.
Beautiful story of a young girl - Anne de Guigne was clever and passionate, yet practiced humility and all the other virtues -- and she died at the age of 10.
Refuge for Billions of Catholics - Catholics have always prayed to these saints in their necessities. St. Blaise, St. Christopher, etc. Includes countless novenas!
St. Anne - Grandmother of Our Lord - According to Ven. Mary of Agreda, she possessed all the virtues, especially purity. Learn more about her!
Young Italian Maiden - Who suffered the Stigmata every Friday, and was pious from her youth. St. Gemma Galgani, called the "Gem of Christ"
Heroic Chastity - Read how St. Maria Goretti had to give up her life to preserve her purity! She is called the patroness of youth.
All Glory to Almighty God - Well documented cases of the miraculous taken from the lives of the Saints. Fascinating!
Defeated Persian Sorcerers - The glorious life of St. Jude Thaddeus, Apostle and cousin of Our Lord, as taken from ancient Catholic traditions.
Angels and Devils - Learn all that Scripture and Tradition teaches us about the pure spirits God created. Fascinating and enlightening!
Life of Mary Magdalen - Learn fascinating details of her life that you didn't know before! From the visions of Anne Catherine Emmerich.
The Angel of the Judgment - At a critical point in Church history, his preaching and miracles served as a warning of impending chastisement.
Miracles All His Life - The miraculous was very common in the life of St Gerard Majella, great saint and Patron of Expectant Mothers.
Eyewitness to Gospel events - Blessed Anne Catherine Emmerich saw so many biblical events in her visions. Be inspired and edified by her virtuous life!
United with Jesus Christ - She suffered for souls and for the Church, and received countless visions all her life. One man wrote down her visions for YOUR sake!
Never a Moment Wasted - this zealous missionary and client of Our Lady is a model for all Catholics. Read about his saintly life.
She saw her Guardian Angel - this innocent girl tells us the story of her saintly life -- beautiful, inspiring!
Servants of Satan Establish Paganism - Astrology, witchcraft, and countless systems of idolatry set up after the Confusion of Tongues.
Fervent Catholic Indians - Father De Smet was like an Apostle, suffering greatly to bring the True Religion to the Native American peoples.
Classic Sermons for Lent - On the Last Things, aimed at moving you to serve God even more faithfully. By St. Francis de Sales.
Those Who Met St. Padre Pio - Stories of conversions, miracles, etc. from those who met this living Crucifix. Recently canonized.
Beat Up by the Devil - This great Saint had prophetic visions in the form of dreams, and often physically struggled with the devil.
Life of St Gertrude - Our Lord appeared to her many times, and she was much loved by Him because of her purity.
Jesus Dearly Loved Her - Because of her love and confidence in him, her heart was His favorite place to dwell, after the Blessed Sacrament.
The Dolorous Passion - Giving never before seen details of Our Lord's Passion! From the visions of Anne Catherine Emmerich.
Braving the English Torture - St. Margaret Clitherow was a wife and mother - and she kept the Faith even to martyrdom!
Details of The Good Thief - Learn about his life with a gang of brigands, how he helped the Holy Family, and much more.
Classic Catholic Sermons - You won't fall asleep here! Sermons by a Doctor of the Church, filled with energy and the spirit of Faith.
Miracles Taking Place Today - St. Philomena is famous for the number of miracles surrounding her shrine - here are some of them.
Isabella of Spain - A holy Catholic queen, and a valiant defender of Christ's kingdom.
St Anthony - the Wonder Worker - His life was filled with proofs that God was with him.
St Vincent de Paul - famous for his charities, this great Saint was canonized only 77 years after his death!
The Cure of Ars - Three of him could destroy the devil's kingdom! Read about his physical struggles with Satan.
St. Rita - Nothing is impossible with God! Her life is an example for us all, especially to mothers.
Sermons of St. Francis de Sales - Here he speaks all about the kinds of prayer. Learn what (and what not) to do!
St. Teresa of Avila - She founded many convents, which were to adhere to the strict observance of the Carmelite Rule.
St. Elizabeth of Hungary - Known for her generosity to the poor
Alexandrina - A victim soul who suffered the Passion on Fridays
The Spiritual Life
Jesus, Prisoner of Love - Meditations on the most beautiful doctrine of the Catholic Faith - the Real Presence of Jesus in the Eucharist
Spiritual Exercises - Written by a great saint, these meditations have converted millions of souls.
Manual of the Spiritual Life - Your duties as a penitent toward your confessor/spiritual director.
Lessons from Calvary - 31 meditations on Our Lord's Passion that will help you to easily avoid sin.
Finding Peace of Heart - Only by knowing how to follow God's will, can a person be truly happy.
Strategy for Getting to Heaven - We must learn how the devil works on us, how to avoid his snares, to win the "War for our Souls".
How to Fight the Deadly Sins - Timeless advice on how to combat each of the Capital sins.
A Manual for Confession - How to benefit from the Sacrament of Penance: common pitfalls, scruples, how to make a good exam of conscience, and much more.
Seven Deadly Sins - Learn about the different forms of pride, avarice, lust, anger, envy, gluttony and sloth.
How to Pray Well - How we should pray to God - with confidence, perseverance, simplicity. Advice from St. Alphonsus Liguori!
Marriage & Family
How to Raise Good Catholic Children - With examples from the saints and wise and thoughtful commentary - a must-read for every parent!

Haunted by Children She Aborted - Testimony from her own mouth: how she had 7 abortions, and how her life changed afterward.

Catholic Doctrine on Marriage - Common sources of marital strife and how to avoid them, the differences between the sexes, periodic abstinence, and more.
Your Labor of Love - The author talks about isolation, sufferings, the modern culture, and more.
Spiritual Growth during Pregnancy - How expecting a child can bring a woman closer to God and the Blessed Virgin Mary. Includes much practical advice.
St. Joseph
St. Joseph - After Our Lady, the holiest mere man who ever lived
Privileges of St. Joseph - Why St. Joseph receives so much honor in the Church
Novenas to St. Joseph - Universal Patron - Pray to St. Joseph for all of your needs - Jesus, now in Heaven, still listens to him as a father!
The Last Things/Afterlife
Death, Judgment, Hell, Heaven - The Saints always thought about their last end, and so should we. Brings the reality of eternity before your eyes!
Life Everlasting - Discusses death, judgment, heaven and hell; also the vices and virtues
Beyond the Grave - What we know about Purgatory from sacred history and the lives of the saints.
Peaceful Rest or Almost Like Hell? - Discusses the two opposing Catholic viewpoints on the subject of Purgatory.
Purgatory - Learn what the Catholic Church has always taught on this subject.
What Will Hell be Like? - Discusses the sufferings of Hell in detail.
Eternity of Hell - Including a story from a soul who was sent there!
Catholic Doctrine and Dogma
What is Sanctifying Grace? - Learn all about the nature of Grace, what it does for us, how to increase it in our souls, and its importance.
Catholic Dogma of Grace - God's grace vs. man's ability to merit for his actions.
Sin and Forgiveness - True Catholic doctrine with quotes from Scripture and the Fathers.
The Intellect of the Angels - What Catholic theology says about the angels.

Simple Easy-to-Understand Catechism - For Catholics to better learn their faith, or to give to possible converts.
Sodomy Condemned - The Catholic Church has always condemned this unnatural vice - see proofs from the Magisterium, Church laws, Scripture, canons, and more!
The Mass Keeps the World in Existence - and other lofty considerations; helps Catholics appreciate the real value of the Mass.
The Catholic Mass - Why it is so priceless; relates actual events which prove it!
The Catholic Faith - Easy to read and follow, using the most solid Catholic doctrine. Very thorough.
What Does The Bible Say About Marriage? - Find all Bible quotes about "Anger", for example, gathered into one page.
Defending the Faith/Apologetics
The REAL Luther - From the pens of Protestant historians, and Luther's own (foul) mouth - learn about the real man.
The Faith of our Fathers - A topic-by-topic explanation of what the Catholic Faith teaches. Great for apologetics!
The Bible Explained - Why were all those various stories placed in the Bible for us to read? Here is why!
How Christ Changed Society - Compare the ancient world with the world influenced by Christ.
Scripture Alone for Salvation? - Even the Bible itself denies this! Read 21 compelling reasons why Tradition is also necessary.
The Bible is a Catholic book - Convincing arguments show clearly that criticism of the Catholic Church has no truthful basis! Excellent apologetics based on history.
Defend Catholic Dogmas - Find rational arguments for what Catholics believe.
Theory of Evolution
Evolution Hoax Debunked - A learned scientist discovers that there is no evidence FOR Evolution, but plenty AGAINST it!
Proofs against Evolution - Plenty of evidence against Evolution is out there, but it is often ignored by the media. Fascinating!
Evolution is a Fraud - So say countless biologists and scientists! Read more...
Novels
King of Jerusalem - Balwin IV of Jerusalem leads the Crusaders in this exciting novel.
Exciting Adventures - Tom Playfair and his friends at a Jesuit boarding school. Exciting, Catholic, fun!
More Catholic Adventures - written by Fr. Finn - Percy Wynn meets Tom Playfair and friends, and enters the boarding school (St. Maure's).
Perpetual Motion Boy - The Fr. Finn boarding school universe expands with Claude Lightfoot and other interesting characters.
That Football Game - written by Fr. Finn - Which is more important? English class, a math competition, or an upcoming football game?
Return to Catholic Doctrine Homepage