Catholic Search
Custom Search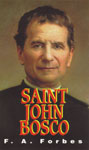 St. John Bosco
1815-1888


"And taking a child, he set him in the midst of them. Whom when he had embraced, he saith to them: Whosoever shall receive one such child as this in my name, receiveth me. And whosoever shall receive me, receiveth not me, but him that sent me." —Mark 9:35-36

"Suffer the little children to come unto me, and forbid them not; for of such is the kingdom of God." —Mark 10:14

Da mihi animas; tolle ceteras. "Give me souls; take away the rest." —St. John Bosco

St. John Bosco
THE FRIEND OF YOUTH
FOUNDER OF THE SALESIAN SOCIETY,
OF THE SISTERS OF MARY, HELP OF CHRISTIANS,
AND OF THE SALESIAN CO-OPERATORS

FOREWORD
This life, so full of color and of drama, will appeal to all, whatever their creed or opinions. St. John Bosco, or simply "Don Bosco," as he wished to be called, spent himself wholly, from his very childhood, in healing modern human miseries. As he saw and foresaw the dangerous surging tide of misled popular masses longing for justice, he threw himself headlong among the youth of the lower classes, pointing to them the only way to a better place in this life and in the life to come. He did not talk much: he acted. He did not write long and elaborate educational treatises: his example is the best one. When asked about the secret of his immense success with the youngsters, he simply answered: "love . . ." By a kind of surprising intuition, Don Bosco knew that selfishness, bearing injustice and hatred, was at the bottom of this modern society, forever prattling about equality, philanthropy and fraternity. He felt the sting of the sarcasm and of the tragedy of the common people proclaimed "sovereign" in theory, but in fact reduced to slavery by this blustering modern liberalism, which raised the flickering torch of human "reason" against the eternal light. Don Bosco set himself to bring back the multitudes to the only Heart that understood their needs. He is the greatest pioneer of Christ in modern times. This book is the fruit of gratitude, the loving "Thank you" for a great favor miraculously granted to the author through Don Bosco's intercession. The reader will feel the throbbing of a grateful heart in every page. As to its veracity, suffice it to state that Don Bosco's figure stands out vividly against the background of the latter part of the 19th century. May this book carry far and wide through our beloved country the old and always new Spirit of Christ as the only remedy for the ailments of this suffering age!

Chapter 1
THE MAKING OF AN APOSTLE



St. John Bosco's mother, like the mother of many great men, was a notable woman, one of the heroic company of Catholic wives and mothers who carry the great ideals of their faith into the smallest things of life. Margaret Occhiena was a native of Capriglio, a little village among the vine-clad hills of Piedmont in the neighborhood of Turin. In early womanhood she married Francis Bosco, a young widower, who farmed his tiny property in the neighborhood hamlet of Becchi. Francis Bosco had a son by his first marriage, a boy of nine, Anthony, and he had taken his old mother to live with him. Margaret took the motherless boy and the old woman to her heart and made the little household a real home. Joseph, her eldest son, was born in 1813, John two years later. The little family was very happy in spite of poverty, until, scarcely two years after the birth of John, Francis Bosco died of a sudden attack of pneumonia. Little John never for got how his mother took him into the room where his father lay very still on the bed. She was leading him out again when he pulled back, crying that he wanted to "stay with father." Margaret burst into tears. "My little John, you no longer have a father," she said, and a strange chill fell upon the heart of the child. It was an uphill fight, now that the breadwinner was gone, but Margaret set herself bravely to the task of providing for the household. There was much work to be done at Becchi, and the boys were taught to work hard. At four years old, little John was already doing his share, tending the cattle, gathering sticks for the fire, or watching the bread his mother had put down to bake. They lived hard too—up with the dawn in winter and summer, a slice of dry bread for breakfast, and off with a cheerful face to whatever the day's work might be.

Margaret Bosco, though herself unlearned, was a born educator. The beginning and end of her teaching was God. Morning and evening the whole household knelt together, asking their daily bread, both for soul and body, for courage to do well, and pardon for what was done less well. Margaret seldom punished. "God always sees you," she used to say, "even when I do not. I may not be there, but He is always there." She would speak to her children of His beauty, revealed in the lovely world of His creation, and when their tiny vineyard, as sometimes happened, was stripped of its fruit by a sudden hailstorm: "God gave them to us," she would say, "and He has taken them away. He is the Master; may His Will be done." And when in the winter evenings they sat by the fire, listening to the wind that howled around the little cottage, "Children," she would say, "let us thank God, who is so good to us. He is truly a Father— our Father in Heaven." When the children were tempted to be untruthful: "Take care," she would say, "God sees our most secret thoughts"—and out would come the truth.

Those were terrible years of war and famine in Italy. Beggars of all description went from village to village seeking food, and it was noticed that even though Margaret herself might be in need, no one ever went hungry from her door, nor was any wanderer refused shelter. If anyone in the hamlet was sick and needing wine or food, however low might be her own little store, she would give what she had. Anthony, John's stepbrother, was a difficult boy, surly and ill-tempered. Though Margaret always treated him with respect as eldest of the family and loved him as her own son, he was always ready to think that the other two were being treated better than he, though in his heart he knew better. It was through the patient tenderness and forbearance, as well as the wise teaching of Margaret Bosco, that this most trying of her children grew up later into a good and upright man.

Little John was by far the most intelligent of the three, and though full of life and vigor, the most responsive to her teaching. He loved to help his mother in her charitable actions; when she went to visit a sick neighbor he went with her, and while she attended to the invalid, he would gather the children around him and teach them their prayers. Wherever he was he was the leader, in games as in everything else, and even as a child of five he used his influence for good. Sometimes his mother would object to his choosing the roughest boys to play with, especially when he came home rather the worse for wear. John would coax her—"You see, Mother, when I play with them, they are not so nasty, they don't fight and use bad words." It was quite true. There was a radiant purity about the child that influenced all with whom he came in contact. Through all the earlier years of his life, little John herded the cattle. He led them out joyously into the meadow, singing one of the hymns to Our Lady that his mother had taught him. The silence and beauty of the open country led his thoughts to God; he became a lover of silence and prayer. The little shepherds of the neighborhood, with whom he was very popular, sometimes interrupted him, and he would tell them a story or repeat part of the last catechism lesson of his mother. And he had such a delightful way of doing it that they came again and again. Among them was a poor little fellow who had only a hunk of black bread for his breakfast. "I'd like your bread better than mine," said John one day. "Will you trade?" He had a large slice of good white bread such as Margaret always provided for her children; little Matteo was ready enough to trade, but he thought John had very strange likings. The exchange continued daily, and it was only after many years that it struck Matteo that liking had not had much to do with it.

When John was about nine, it became evident to his mother that he was destined for something other than a shepherd's life. There was no school at Murialdo, the nearest village; and Castelnuovo, where there was one, was a good distance away. There would be some expense. Anthony, now 20, consulted as the head of the family, put his foot down firmly. "He can dig like the rest of us," he said. "I have never been to school." Margaret, rather than cause any trouble in the home, gave way. But her sister, housekeeper to the parish priest at Capriglio, who acted also as a schoolmaster, begged him to take the child as pupil in the class which began in early November and ended with the spring. The little scholar had to tramp three miles twice a day in all weather, but he thought it a cheap price to pay and quickly learned to read. During the spring and summer, when at work in the fields again, he studied whenever he had a free moment and while herding the cattle.

"I want to study, I want to be a priest," he would reply to the rather violent remonstrances of his young friends. With the return of winter there was a question of going back to the class at Capriglio, but again Anthony turned crusty, and again Margaret thought it better not to insist. During his whole life John Bosco was to be inspired and guided by strangely vivid dreams, God's revelation of what his work in the world was to be. The first took place about this time when he was nine years old. He seemed to be in a large yard near the cottage, where a great many boys were playing together; some were laughing, some playing games, some fighting, some swearing and using foul language. John shouted to them to stop and, dashing in, began to strike at them. Suddenly, by his side, he was aware of a shining figure in white, of unparalleled dignity and with a face so radiant that he could not bear to look at it.
"Not with blows, but with gentleness and charity, you must take care of them and win their hearts," he said, "teach them the beauty of virtue and the ugliness of sin."
"How can I teach them, who am ignorant myself?" asked John.
"By obedience and knowledge, you will do the impossible," was the answer.
"How can I get knowledge?"
"I will give you the wisest of teachers; she will teach you true knowledge."
"Who are you who speak thus to me?"
"I am the Son of her whom your mother has taught you to salute three times a day."
"My mother has also taught me to be careful of strangers. What is your name?"
"Ask My Mother."
At that moment John saw beside his interlocutor a beautiful Lady clothed like her Son in shining raiment. She took him by the hand.
"Look," she said. The boys had vanished, and in their place he saw a crowd of wild animals.
"This is your work," she said. "Be humble and strong. I will show you now what you must do with my children."
As she spoke the animals vanished, and in their place he saw lambs gamboling and frisking about the Lady and her Son. John began to cry,
"What does it mean?"
The lady laid a gentle hand on his head. "You will understand later," she said, and John awoke.
He slept no more that night.
So that was to be his work—to teach the beauty of goodness and the ugliness of sin. How was he to do it? Little John had an idea. The great entertainments in those days in Italy were the performances of the traveling jugglers and acrobats who were always to be seen on market days in the villages and towns. It had not escaped John's keen eyes that people would even stay away from church to look at them. From henceforth, whenever a juggler was to be seen, there was John watching. Then he went home and practiced. He was black and blue for a while, but he was a supple little fellow and soon he began to get the knack of it. Before very long, he had acquired most of the tumbler's tricks and could even walk on a tightrope rigged up between two trees—not too far from the ground. Then he planned his program. The children of the neighborhood were invited to a performance, only it was prefaced and ended by prayer, and somewhere in the middle John gave them what he could remember of the Sunday sermon, all with the inimitable energy and spirit that was his. It was made quite clear from the beginning that "No prayers, no performance" was to be the order of the day, and John was inexorable on this point. It was for their souls' welfare that he had been black and blue all over, not to give them a pleasant afternoon. To the circle of admirers it was as good as a first-class circus, and they never failed to appear. They were intensely proud of John.

At ten years old John Bosco made his First Communion. In those days, before the happy pronouncement of Saint Pius X, children did not approach the Holy Table until about 12 or 13. But Margaret Bosco, understanding all that it would mean for her little son, sent him to the preparatory class at Castelnuovo in the Lent of 1826. Though younger than all the rest, he was the most understanding, as well as the one who knew his catechism the best. Margaret herself prepared him for the great act. "My little son," she said, "God is about to give you the most precious of His gifts. Make ready your whole soul to receive Him and promise Him to be faithful to Him all your life." On the morning of the great day she herself took him to the church at Castelnuovo and they made their Communion together. The Master entered into lasting possession of the soul of His young servant. John had told his mother of his dream, and to her it seemed a clear indication that he was meant for the priesthood. Yet there was Anthony's savage opposition to his little brother's education to be dealt with. She commended it to God, and God heard her prayer.

That year, in honor of the Jubilee of 1826, an eight days' mission was held in the towns and larger villages of Piedmont. Buttigliera being nearer than Castelnuovo, the Becchi folk trudged the three miles morning and evening to hear the two sermons. In the early hours of the night, the villagers all tramped home together to their different hamlets. So it came about one evening that Don* (Master, the title given to priests in Italy) Calosso, the old parish priest of Murialdo, walking with the rest, became aware of a dark-eyed, curly-headed urchin who seemed to him much too young to be able to follow the instructions.
"Hello, Sonny," he said, "where are you from?"
"Becchi, Father."
"Could you understand anything of the sermon?"
"Yes, Father, all of it."
"All, that's a good deal. If you'll give me one thought from it, I'll give you a penny."
"Which part, Father, the first or the second?"
"Whichever you like, even the subject of the sermon."
"It was on the necessity of not putting off one's conversion."
"And what did he say about it?"
"He put it in three parts, Father—which am I to say?"
"The one you like."
"Well, I'll say all three."
Whereupon this amazing urchin delivered the substance of the whole sermon. The villagers had gathered around the pair and, to the music of the child's clear voice, the way home seemed wonderfully short.
"That was one sermon," said the priest; "how about the other? Tell me something about that."
"What struck me most about it," said John gravely, "was this," and he recited vividly a scene dramatized by the preacher.
Don Calosso was dumbfounded. What a child! What intelligence and what a memory! What would the future bring? He paced, silent and thoughtful.
"What is your name? Where do you live? Who are your parents? And where are you at school?" he asked at length.
"I am John Bosco, my father died when I was two, my mother has five of us to feed. I can read and write a little."
"Any knowledge of grammar?"
"What's that?"
"Would you like to study?"
"My brother Anthony won't have it."
"Why?"
"He says I know enough to work in the fields."
"Would you like to study?"
"Oh, yes."
"Why?"
"To be a priest."
"Why do you want to be a priest?"
"To get hold of the children, to teach them their religion, so that they may not grow up bad. I know that when they get bad, it's because they haven't had anyone to help them. Excuse me, Father, here is the turn to Becchi."
"Can you serve Mass, John?"
"A little."
"Then come and serve mine tomorrow."
Next day after Mass, there was a long conversation in which Don Calosso read the soul of the child and saw something of God's purpose for him. "Tell your mother to come and see me," he said on parting; "we will talk things over." In that talk it was decided that John should go to Murialdo every morning and study Latin with the old priest. The rest of the day he would go on working in the fields. Anthony was very angry when he heard what was afoot but for the moment held his peace. Little John was radiantly happy with the kind, gentle, old priest—just the kind of priest he had dreamed of—not cold and distant like some he had met. He found Latin stiff, but went at it with all the vigor he possessed, and his wonderful memory was a great asset.

But the springtime came, and the few hours of study taken from field work roused Anthony's wrath. John did double work to make up and kept his books hidden till nightfall, but all was in vain. One night the elder brother broke out. "That's enough!" he raged. "I'm going to turn all these books out of the house. I became a big, strong man without any of that nonsense." John was hot too. "Our donkey's stronger still," said he, "and he never studied either." Anthony made a dash for him, but John fled through the open door. Anthony's opposition soon became something like persecution. Margaret saw that this would not do. She stopped the lessons, but when this did not suffice she sent her beloved John away from home. "Go and get work on one of the farms round about," she said through her tears, and on a frosty morning in 1829 John Bosco, aged 14, with his small possessions tied up in a bundle, left home and committed himself to the Providence of God. He was hired as laborer to a fairly rich farmer of Moncucco. He worked hard all the week and on Sunday gathered the children of the hamlet together to teach them their religion, using his power of dramatic storytelling as a bribe. But John's desire for the priesthood was more acute than ever; he confided it to his employers, who were very fond of him but gave him little encouragement.
"It costs so much to be a priest, John."
"Cost what it may, I will go on hoping," he said, and spent all his evenings in study.
The year was not over when hope dawned. One day when shepherding the cattle he met his uncle Michael Occhiena, a well-to-do peasant, who had always liked him.
"Hello, John; getting on well?"
"Everyone is very kind to me, but I cannot get over the longing to carry on my studies. I shall soon be 15."
"Here," said his uncle, "take the cattle back to the farm, pack your bundle and go home."
It was not a triumphant homecoming. Margaret had to hide her son behind a hedge until Uncle Michael arrived to make and uphold the decision that John was to continue his education. Shortly afterwards the little family property was divided; Anthony set up on his own account, and Joseph was ready to do all he could for his younger brother. Margaret was free at last to devote her resources to her younger son. Even so there was little enough, had not Don Calosso come again to the rescue. He adopted John for the time being and devoted himself entirely to his education, promising to provide for its continuance. John was supremely happy with the old man, whom he loved as a father, but his troubles were not at an end. Within the year the old priest died of a sudden stroke. His last look was for John. Taking the key of his cashbox from under his pillow, he gave it to him. But in the absence of any legal right, John handed it over to the nephew of the dead priest.
"Take all that you need," said the latter; "I know that was my uncle's wish."
The temptation—for so John looked at it— was great, but he did what he thought was right.
"I will take nothing," he said. But night was in his soul as he went back to Becchi.
Once again Uncle Michael played providence. He sent John to the school at Castelnuovo, where there was a supplementary class of Latin. It was a long way. To save shoe leather, John walked barefoot till he neared the little town, and as he thought the journeys to and fro a great waste of time, he did not go home at midday. And in bad weather he spent the night with a kindly tailor who gave him a hole under the staircase to sleep in. In the end the tailor offered to keep him altogether for a very small sum. The big boy of 15 felt a little out of place and awkward among the younger children. He was classed at first among the backward, but soon came to the top. The teacher had small sympathy for the big peasant lad, whose silent reserve made him appear stupid. "What can one expect from a place like Becchi?" he said. John was told that he was wasting his time at Latin and ought to go back to the plow. When his work was good, it was supposed that he had copied someone else. John made no answer; he accepted sarcasms silently and worked strenuously. Finally the Latin master declared that he would not read John's rubbish, and when John presented his translation, he threw it aside with a contemptuous remark about "dunces from Becchi." The class was amused; the others asked to hear John's nonsense, and the master, taking up his translation to please them, glanced through it. To his disgust it was almost faultless.
"It is not his own," he said, "he has copied it from a neighbor."
"He has not," averred his two nearest neighbors; "read ours and see."
The remark was only just, but it irritated the professor extremely.
"You think you can teach me," he retorted. "When I say he has copied, he has copied." It is not surprising that that kind of teaching was not very profitable to the pupils. John profited in another way, by the practice of patience and humility. More was to be learned from his friend the tailor; he could at least pick up something there, and indeed, he picked up a good deal. To begin with, he picked up tailoring and soon became so good at the work that he was almost able to pay for his board. He little knew how valuable this would be to him in later life. Moreover, Robert the tailor was something of a musician; he had a very fine voice and was first tenor in the choir. John, who had a beautiful voice himself, was a precious recruit. It did not take him long to learn the liturgical music, the hymns and canticles of the Church, and the learning was sheer joy. Most Italians are musical; he learned from Robert to play the violin. In a corner of the house was an elementary and rather decrepit harpsichord. John learned to play that too and practiced till he was an adept at accompaniments. This was the value he got out of his year at Castelnuovo in view of his future life— something that was to be even more precious to him than study.

When the summer holidays came around, John went back to his work in the fields. What was going to happen now? The answer was another dream. There came to him in this dream a shepherdess, beautiful beyond compare, leading a large flock of sheep. "John," she called, "come here. Do you see this flock of mine? Look, I give it into your keeping."
"My Lady," said John, "what can I do? How can I keep this great flock of sheep and lambs? I have no pasture for them."
"Don't be afraid," said she. "I will watch over you, and I will help you."
The next day he met a friendly farmer. "John, what makes you look so jolly today?" he asked.
"You've looked rather grave and worried of late."
"Today," said John triumphantly, "I know with certainty that I shall be a priest."


Taken from St John Bosco by TAN Books & Publishers, Inc.

Other pages discussing Catholic doctrine and history:

Our Lord Jesus Christ
The Sacred Heart of Jesus - Learn all about this beautiful devotion to Our Lord.
The Shroud of Our Lord - Discusses the convroversy over the Shroud of Turin - is it real or a forgery? Evidence points to its authenticity.
Infinite Mercy of Jesus - Learn how the Heart of Jesus has a strong desire to love and pardon sinners who sincerely return to Him.
The Blessed Virgin Mary
The Blessed Virgin Mary - Immaculate, pure, and our most powerful intercessor after Our Lord
The Holy Slavery - To Jesus, through Mary -- the same way Jesus came to us (through His Mother)
Edifying and Beautiful - Learn about God's Providence in regard to the Blessed Virgin Mary, her graces and merits, the details of her life!
Our Lady of Fatima - Her predictions and warning for the future.
Saints who Saw Mary - Tells the story of 17 great Saints who saw and heard the Blessed Mother, whom they were so devoted to!
History and Culture
Wearing Pants Incites Men to Lust - Learn how women's fashions have corrupted, how evil forces are behind most modern fashions, and much more! Includes practical advice.
How to Run a Catholic Family - Discusses how to bring the Catholic Faith into family life! How the family can best celebrate feast days, and make use of good Catholic customs.
A TRUE History Book - This premise of this history book: The coming of Jesus Christ was the most important event in history.
Catholic History Workbook - Fascinating; hard to put down! It makes more sense of History than secular books which explain things in a disjointed manner.
Homeschooling Workbook - With questions for every chapter of Christ in the Americas - multiple choice, fill in the blank, true/false, and more!
Crisis in the Church
Read about St. Athanasius - faithful and courageous, known as the "champion of orthodoxy". One of the 33 Doctors of the Church!
St. Athanasius - The great defender of the Catholic Faith against Arianism
Crisis in the Church - How the enemies of God plot to overthrow the Church from within.
Revolution in the Church - How Vatican II and its aftermath caused a crisis in the Catholic Church.
Freemasonry - Pope Leo XIII unmasks this evil society, and forbids all Catholics to join.
Combination of ALL Heresies - Pope St. Pius X unmasks the Modernists, giving us their doctrine and methods!
Vatican II - Impartially discusses what happened at Vatican II -- mostly quotes from the men that were there!
Fascinating if true - A man's deathbed confession.
St. Therese, the Little Flower
St. Therese the Little Flower - Under obedience, she tells the story of her childhood, religious life, etc.
Mother of St. Therese - Learn about the woman who raised 5 saintly daughters, all of which entered the religious life!
Father of St. Therese - Learn about the man who let the holy family of Lisieux so well, that his 5 daughters entered a convent!
From the Sister of St. Therese - In her biography, she writes many things not found in Story of a Soul.
Lives of the Saints
Learned Mystic and Theologian - St. John of the Cross suffered greatly, even prison, for the Carmelite Reform. Father of the Discalced Carmelites.
Beautiful story of a young girl - Anne de Guigne was clever and passionate, yet practiced humility and all the other virtues -- and she died at the age of 10.
Refuge for Billions of Catholics - Catholics have always prayed to these saints in their necessities. St. Blaise, St. Christopher, etc. Includes countless novenas!
St. Anne - Grandmother of Our Lord - According to Ven. Mary of Agreda, she possessed all the virtues, especially purity. Learn more about her!
Young Italian Maiden - Who suffered the Stigmata every Friday, and was pious from her youth. St. Gemma Galgani, called the "Gem of Christ"
Heroic Chastity - Read how St. Maria Goretti had to give up her life to preserve her purity! She is called the patroness of youth.
All Glory to Almighty God - Well documented cases of the miraculous taken from the lives of the Saints. Fascinating!
Defeated Persian Sorcerers - The glorious life of St. Jude Thaddeus, Apostle and cousin of Our Lord, as taken from ancient Catholic traditions.
Angels and Devils - Learn all that Scripture and Tradition teaches us about the pure spirits God created. Fascinating and enlightening!
Life of Mary Magdalen - Learn fascinating details of her life that you didn't know before! From the visions of Anne Catherine Emmerich.
The Angel of the Judgment - At a critical point in Church history, his preaching and miracles served as a warning of impending chastisement.
Miracles All His Life - The miraculous was very common in the life of St Gerard Majella, great saint and Patron of Expectant Mothers.
Eyewitness to Gospel events - Blessed Anne Catherine Emmerich saw so many biblical events in her visions. Be inspired and edified by her virtuous life!
United with Jesus Christ - She suffered for souls and for the Church, and received countless visions all her life. One man wrote down her visions for YOUR sake!
Never a Moment Wasted - this zealous missionary and client of Our Lady is a model for all Catholics. Read about his saintly life.
She saw her Guardian Angel - this innocent girl tells us the story of her saintly life -- beautiful, inspiring!
Servants of Satan Establish Paganism - Astrology, witchcraft, and countless systems of idolatry set up after the Confusion of Tongues.
Fervent Catholic Indians - Father De Smet was like an Apostle, suffering greatly to bring the True Religion to the Native American peoples.
Classic Sermons for Lent - On the Last Things, aimed at moving you to serve God even more faithfully. By St. Francis de Sales.
Those Who Met St. Padre Pio - Stories of conversions, miracles, etc. from those who met this living Crucifix. Recently canonized.
Beat Up by the Devil - This great Saint had prophetic visions in the form of dreams, and often physically struggled with the devil.
Life of St Gertrude - Our Lord appeared to her many times, and she was much loved by Him because of her purity.
Jesus Dearly Loved Her - Because of her love and confidence in him, her heart was His favorite place to dwell, after the Blessed Sacrament.
The Dolorous Passion - Giving never before seen details of Our Lord's Passion! From the visions of Anne Catherine Emmerich.
Braving the English Torture - St. Margaret Clitherow was a wife and mother - and she kept the Faith even to martyrdom!
Details of The Good Thief - Learn about his life with a gang of brigands, how he helped the Holy Family, and much more.
Classic Catholic Sermons - You won't fall asleep here! Sermons by a Doctor of the Church, filled with energy and the spirit of Faith.
Miracles Taking Place Today - St. Philomena is famous for the number of miracles surrounding her shrine - here are some of them.
Isabella of Spain - A holy Catholic queen, and a valiant defender of Christ's kingdom.
St Anthony - the Wonder Worker - His life was filled with proofs that God was with him.
St Vincent de Paul - famous for his charities, this great Saint was canonized only 77 years after his death!
The Cure of Ars - Three of him could destroy the devil's kingdom! Read about his physical struggles with Satan.
St. Rita - Nothing is impossible with God! Her life is an example for us all, especially to mothers.
Sermons of St. Francis de Sales - Here he speaks all about the kinds of prayer. Learn what (and what not) to do!
St. Teresa of Avila - She founded many convents, which were to adhere to the strict observance of the Carmelite Rule.
St. Elizabeth of Hungary - Known for her generosity to the poor
Alexandrina - A victim soul who suffered the Passion on Fridays
The Spiritual Life
Jesus, Prisoner of Love - Meditations on the most beautiful doctrine of the Catholic Faith - the Real Presence of Jesus in the Eucharist
Spiritual Exercises - Written by a great saint, these meditations have converted millions of souls.
Manual of the Spiritual Life - Your duties as a penitent toward your confessor/spiritual director.
Lessons from Calvary - 31 meditations on Our Lord's Passion that will help you to easily avoid sin.
Finding Peace of Heart - Only by knowing how to follow God's will, can a person be truly happy.
Strategy for Getting to Heaven - We must learn how the devil works on us, how to avoid his snares, to win the "War for our Souls".
How to Fight the Deadly Sins - Timeless advice on how to combat each of the Capital sins.
A Manual for Confession - How to benefit from the Sacrament of Penance: common pitfalls, scruples, how to make a good exam of conscience, and much more.
Seven Deadly Sins - Learn about the different forms of pride, avarice, lust, anger, envy, gluttony and sloth.
How to Pray Well - How we should pray to God - with confidence, perseverance, simplicity. Advice from St. Alphonsus Liguori!
Marriage & Family
How to Raise Good Catholic Children - With examples from the saints and wise and thoughtful commentary - a must-read for every parent!

Haunted by Children She Aborted - Testimony from her own mouth: how she had 7 abortions, and how her life changed afterward.

Catholic Doctrine on Marriage - Common sources of marital strife and how to avoid them, the differences between the sexes, periodic abstinence, and more.
Your Labor of Love - The author talks about isolation, sufferings, the modern culture, and more.
Spiritual Growth during Pregnancy - How expecting a child can bring a woman closer to God and the Blessed Virgin Mary. Includes much practical advice.
St. Joseph
St. Joseph - After Our Lady, the holiest mere man who ever lived
Privileges of St. Joseph - Why St. Joseph receives so much honor in the Church
Novenas to St. Joseph - Universal Patron - Pray to St. Joseph for all of your needs - Jesus, now in Heaven, still listens to him as a father!
The Last Things/Afterlife
Death, Judgment, Hell, Heaven - The Saints always thought about their last end, and so should we. Brings the reality of eternity before your eyes!
Life Everlasting - Discusses death, judgment, heaven and hell; also the vices and virtues
Beyond the Grave - What we know about Purgatory from sacred history and the lives of the saints.
Peaceful Rest or Almost Like Hell? - Discusses the two opposing Catholic viewpoints on the subject of Purgatory.
Purgatory - Learn what the Catholic Church has always taught on this subject.
What Will Hell be Like? - Discusses the sufferings of Hell in detail.
Eternity of Hell - Including a story from a soul who was sent there!
Catholic Doctrine and Dogma
What is Sanctifying Grace? - Learn all about the nature of Grace, what it does for us, how to increase it in our souls, and its importance.
Catholic Dogma of Grace - God's grace vs. man's ability to merit for his actions.
Sin and Forgiveness - True Catholic doctrine with quotes from Scripture and the Fathers.
The Intellect of the Angels - What Catholic theology says about the angels.

Simple Easy-to-Understand Catechism - For Catholics to better learn their faith, or to give to possible converts.
Sodomy Condemned - The Catholic Church has always condemned this unnatural vice - see proofs from the Magisterium, Church laws, Scripture, canons, and more!
The Mass Keeps the World in Existence - and other lofty considerations; helps Catholics appreciate the real value of the Mass.
The Catholic Mass - Why it is so priceless; relates actual events which prove it!
The Catholic Faith - Easy to read and follow, using the most solid Catholic doctrine. Very thorough.
What Does The Bible Say About Marriage? - Find all Bible quotes about "Anger", for example, gathered into one page.
Defending the Faith/Apologetics
The REAL Luther - From the pens of Protestant historians, and Luther's own (foul) mouth - learn about the real man.
The Faith of our Fathers - A topic-by-topic explanation of what the Catholic Faith teaches. Great for apologetics!
The Bible Explained - Why were all those various stories placed in the Bible for us to read? Here is why!
How Christ Changed Society - Compare the ancient world with the world influenced by Christ.
Scripture Alone for Salvation? - Even the Bible itself denies this! Read 21 compelling reasons why Tradition is also necessary.
The Bible is a Catholic book - Convincing arguments show clearly that criticism of the Catholic Church has no truthful basis! Excellent apologetics based on history.
Defend Catholic Dogmas - Find rational arguments for what Catholics believe.
Theory of Evolution
Evolution Hoax Debunked - A learned scientist discovers that there is no evidence FOR Evolution, but plenty AGAINST it!
Proofs against Evolution - Plenty of evidence against Evolution is out there, but it is often ignored by the media. Fascinating!
Evolution is a Fraud - So say countless biologists and scientists! Read more...
Novels
King of Jerusalem - Balwin IV of Jerusalem leads the Crusaders in this exciting novel.
Exciting Adventures - Tom Playfair and his friends at a Jesuit boarding school. Exciting, Catholic, fun!
More Catholic Adventures - written by Fr. Finn - Percy Wynn meets Tom Playfair and friends, and enters the boarding school (St. Maure's).
Perpetual Motion Boy - The Fr. Finn boarding school universe expands with Claude Lightfoot and other interesting characters.
That Football Game - written by Fr. Finn - Which is more important? English class, a math competition, or an upcoming football game?
Return to Catholic Doctrine Homepage