Catholic Search
Custom Search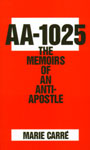 AA-1025 - The Memoirs of an Anti-Apostle


In the 1960's, a French Catholic nurse, Marie Carre, attended an auto-crash victim who was brought into her hospital in a city she purposely does not name. The man lingered there near death for a few hours and then died. He had no identification on him, but he had a briefcase in which there was a set of quasi-biographical notes. She kept these notes and read them, and because of their extraordinary content, decided to publish them. The result is this little book, AA-1025—The Memoirs of an Anti-Apostle, about a Communist who purposely entered the Catholic priesthood (along with many, many others) with the intent to subvert and destroy the Church from within. This little book, his strange yet fascinating and illuminating set of biographical notes, tells of his commission to enter the priesthood, his various experiences in the seminary, and the means and methods he used and promoted to help effect from within the auto-dissolution of the Catholic Church.
Chapter 8
How The Ambitious One Who Thought Himself Stronger Than All Meets "Raven Hair" and Fears His First Weakness

At the end of two years of seminary life, I was seriously asking myself if I could keep it up. The will that exercises itself alone is not always sufficient, and I was very young to feed myself only on my hatred.

Nevertheless, I saw this hatred increase; and at first reserved for God, it now extended to all of my surroundings. If only they could have guessed to what degree I hated them all. Even today, I admire myself for having been able to tolerate them. Surely, I am and remain a loner. If sociability is not indispensible to me, on the other hand, a small oasis of human warmth was lacking in my youth. In fact, I had only my professor of singing, whom I visited every Saturday. On certain matters we understood each other without having to spell things out, but he never knew the reality of my mission in all its extensiveness.

The marvelous thing about it was that I could really relax at his house. Without him, I might not have had the strength to resist. Happily, this writing will never be published, for it is not a good example to my comrades. I had also received the order to accept certain invitations to worldly affairs. They came to me without my knowing why and how they reached me. I was therefore obliged to obey. I never dared, when I wrote to the Uncle, to ask of him the value of these deeply frivolous occupations. Anyway, he knew my disgust for this kind of thing, and he already had told me that it would do me some good to know the ways of the world. Let us admit that, but I never made any useful discovery there.

One evening, I was assisting at a grand reception that was particularly brilliant. My gaze fell upon the profile of a young girl, and suddenly, all that surrounded her vanished, my own senses included. She had a long neck, more slanting than the tower of Pisa, a very large and black hairdo that I would have liked to dishevel, and a childlike and at the same time wilfull profile. I looked at her breathlessly.

It was as if the two of us were alone, although she did not see me. I was yelling at her interiorly to turn her head around a little, in order that I could steal a look at her, but she did not do so. I do not know how long my ecstasy lasted, but I was brought back to earth by an unknown young man. He had understood all, maybe better than I did. He was good-hearted, since he said to me: "Do you wish me to introduce you to Miss X?" He knew me by name, but mistook me for a university student. In all this social life, no one could recognize me as a seminarian.

A little later, this obliging young man introduced me to "Raven Hair." (I will never give her another name). I had recovered my calm, thanks to a discreet breathing exercise. Nevertheless, I was now a different man, totally different. One hundredth of a second had sufficed. During the evening, I did not try to understand what was happening to me. I was too busy enjoying those new feelings. I spoke with "Raven Hair" for a few moments, moments during which I could not "eat" her all up, because what was dominating my inner self was the desire to take this young girl all for myself and to hide her in a small house, far from all, a little house in whichi she would promise to wait for me. She had very large dark eyes that looked at you with an embarrassing seriousness.

And when she was invited to dance, I had to hold both my hands behind my back in order not to kill the one who took her away from me. Dancing is a diabolical invention. I do not understand how a man can tolerate his wife dancing with another man. I looked at her waltzing; her dress was marvelous, but my eyes were as if hypnotized by her bent neck, which seemed to present itself to the axe of an executioner. I do not know why this young girl seemed destined to die a violent death. This feeling increased the fury with which I would have liked to snatch her away from all those people. What was she doing in the midst of all these fools? What was her occupation in life?

I must succeed in getting her to wish nothing else but to wait for me. Any means would be good to attain this end. She belonged to me, that's all. But she left with an aged couple whom I did not know. How could I manage to see her again? She did not pay attention to me, only maybe at the last second when her look met mine. What did this look mean? Can you find out how to meet me again? ... Maybe ... in any case, I did not bother any further about what she could think. I had taken the decision of directing her thoughts because I considered that she belonged to me forever. That she would not agree to that would only be an amusing challenge. I knew her name and nothing else, I entrusted my singing professor with the task of finding her.

This affair seemed to amuse him considerably. He even said to me, "So you are becoming more human?" I could not understand what he found to be inhuman in me, and I was somewhat vexed by what he had said. He did not want to explain himself. His efforts were lengthy and I had to calm myself down by working with a tenfold zeal. It was during those days that I launched on the market (we could almost say) the program that would allow Catholics to be accepted by Protestants.

Catholics had hoped too much for the return of Protestantism to the fold of the Mother Church. It was time that they should lose their arrogance. Charity made it a duty for them. When charity is at stake - I pretended, laughing up my sleeve - nothing wrong can happen. I prophesied with assurance - so that this would be repeated in the same tones - the suppression of Latin, of priestly vestments, of statues and images, of candles and prie-dieu (so that they could kneel no more).

And I also started a very active campaign for the suppression of the Sign of the Cross. This Sign is practiced only in Roman and Greek Churches. It is time that the latter take notice that they offend other people, who have as many qualities and as much holiness as they have. This Sign, and also genuflections, are all ridiculous customs. I also prophesied (and we were then in 1940) the disappearance of altars, replaced by a completely bare table, and also of all the crucifixes, in order that Christ be considered as a man, not as a God. I insisted that Mass be only a community meal, to which all would be invited, even unbelievers. And I came to the following prophecy: Baptism for the modern man has become ridiculously magical. Whether given by immersion or not, Baptism must be abandoned in favor of an adult religion.

I searched for the means of suppressing the Pope, but I could not find the possibility of doing so. As long as we would not say that the play on words of Christ, "Thou art Peter, and upon this rock I will build My Church, and the gates of Hell shall not prevail against it," was invented by a zealous Roman (but how can we prove that - it is not enough that this were possible), a Pope would always be in power. I consoled myself by hoping that we would surely succeed in making him look foolish. The important thing was to cry out against him every time that he started something new and even when he revived old customs too hard to be followed.

Moreover, all that is permitted among Protestants, even if only in one sect, must be authorized among Catholics, that is, the remarriage of divorcees, polygamy, contraception and euthanasia. The universal Church, having to accept all religious and even the unbelieving philosophers, it was urgent that Christian churches should give up their own proprieties. So I asked them to perform an immense cleaning out. All that excited heart and mind to worship an invisible God must be unmercifully suppressed. One must not believe that I ignored, as do some whom I will not name, the power of gestures and of all that speaks to the senses.

A thoughtful mind would have noticed that I was suppressing all that is lovable in a religion which is, on the other hand, quite strict. To leave them severity was a nice enough trick. I would secretly insinuate that this cruel God might, after all, be a human invention - a God cruel enough to send His only Son to be crucified!!! But I had to be careful that my hatred did not appear in my writings.

As I was overjoyed with these orders and prophecies, my singing professor had me called on the phone. He had found her and was inviting me that same evening to a concert where I could see her again. Happily, I easily got permission to go out. I had a very nice voice and churchmen were always lenient toward musicians. I saw her again - more beautiful than the first time - so beautiful, so beautiful - how not to become crazy? She readily consented to come for a cup of tea on the following Saturday at the house of my singing professor. I pretended to reside at a University Center. My singing professor bore the name of Achille and he asked me to call him Uncle Achille. I understand that he wished thereby to give me the illusion of having a family. But I was not very grateful to him for that because his attitude revealed to me that he hoped to see me think seriously of getting married.

How could he have such absurd thoughts? It was a sign that he felt my lack of a priestly vocation, but had absolutely not guessed the power and seriousness of my socialist vocation. To think of it, I saw that this incomprehension, a sign of my strength of character and of the quality of my dissimulation, could only favor my designs. To be a really great man, it is very advantageous to appear to be ordinary and even dumb. Those who show off before crowds are not those who really pull the strings.

My "Raven Hair" seemed to enjoy herself at Uncle Achille's house. I displayed all the charms of my Slav temperament. Nobody had taught me that little game, but I found out that it was instinctive. I must say that I took great pride in it. The woman of my dreams wore, on that day, a very simple blue dress and had around her neck just one jewel, a large medal of the Virgin, called the Miraculous Medal. My eyes kept returning all the time to that object and were scorched by it; I would have liked to snatch it away from her and to throw it out the window.

Chapter 9
How An Anti-religious Zeal Would Like to Drag "Raven Hair" In Its Wake

I had to face the truth, I was simply in love for the first time; in love like a poor chap whose intelligence does not dominate his instincts. I saw only one remedy: an always greater zeal for the defense and the advancement of the great cause of the proletariat. It was at that time that I launched the grand campaign of Biblical dialogue. It aimed at arousing Catholics to an assiduous and thoughtful reading of God's word, insisting fully on the freedom of examination practiced by Protestants for four centuries.

I showed that this liberty had given us many generations of truly adult beings and masters of their lives. By these very pious means, I excited Catholics, therefore, to throw off the yoke of papism and the Protestants to become the masters of this new generation. Although I gave to Protestants the dominating position, I also weakened them, without giving their pride the liberty to guess it. This weakening would come naturally from the emulation of diverse sects. In this contest, the Catholics could not act the part of arbitrator, because they would be preoccupied only by the desire of reforming themselves.

It was child's play to persuade them that they must implement a return to the sources and a brilliant modernization. I suggested that the zeal to give us, in all languages, new Biblical translations in modern style must not be slowed down. There also, I noted a lively competition. I did not mention the financial aspect of the problem, but the number of translations allowed us to notice that this aspect had not escaped the vigilance of Churchmen. The modernization of God's Word often allowed the Church's obstinacy to diminish. And that was done in a very natural way. Every time that a word seemed rarely used and risked not being understood, it was replaced by a word altogether simple - and, of course, always to the detriment of the real meaning. How could I complain about this? Besides, these new translations facilitated the Biblical dialogue upon which we laid great hope.

One of my preferred dialogues concerned the Pope, because this personage is really an obstacle for me. When I say, "this personage," I mean also the texts upon which his title is based. Those texts are also as embarrassing for me as they are for the separated Christians (as they say). I am very grateful to the one who thought that the word "prevail" has become incomprehensible to modern man and has replaced it by "be able." Instead of "the gates of Hell will never prevail against it" (the Church), he has written: "The gates of Hell will never be able to do anything against it." This makes my Biblical dialogue meetings much easier, at least in French-speaking countries. Everyone notices very quickly that this prophecy, which claims that Hell can do nothing against the Church, is absolutely false, and everyone breathes easier because thus vanishes this age-old belief in a divine protection which would definitely always favor the efforts of Catholics (and by implication: never those of heretics!)

I like to launch my dialogues in the labyrinth of the Old Testament. The Book of Genesis, all by itself, is enough to make an honest man become crazy. The older I grow, the more I notice that only the faith of the coalman and the faith of a child can survive in a world in which intelligence takes priority over anything else. I even have reason to ask this question: "Are there any more coalmen, and above all, are there any more children?" It seems today, at least in the white race, that childhood dies at birth and is replaced, I must say, by small, quite annoying adults. I do not know if I must rejoice over this. That faith loses ground by it is all right, but will my faith gain anything by it? Many question marks arise here.

Taken from AA-1025 - The Memoirs of an Anti-Apostle by TAN Books & Publishers, Inc.

Other pages discussing Catholic doctrine and history:

Our Lord Jesus Christ
The Sacred Heart of Jesus - Learn all about this beautiful devotion to Our Lord.
The Shroud of Our Lord - Discusses the convroversy over the Shroud of Turin - is it real or a forgery? Evidence points to its authenticity.
Infinite Mercy of Jesus - Learn how the Heart of Jesus has a strong desire to love and pardon sinners who sincerely return to Him.
The Blessed Virgin Mary
The Blessed Virgin Mary - Immaculate, pure, and our most powerful intercessor after Our Lord
The Holy Slavery - To Jesus, through Mary -- the same way Jesus came to us (through His Mother)
Edifying and Beautiful - Learn about God's Providence in regard to the Blessed Virgin Mary, her graces and merits, the details of her life!
Our Lady of Fatima - Her predictions and warning for the future.
Saints who Saw Mary - Tells the story of 17 great Saints who saw and heard the Blessed Mother, whom they were so devoted to!
History and Culture
Wearing Pants Incites Men to Lust - Learn how women's fashions have corrupted, how evil forces are behind most modern fashions, and much more! Includes practical advice.
How to Run a Catholic Family - Discusses how to bring the Catholic Faith into family life! How the family can best celebrate feast days, and make use of good Catholic customs.
A TRUE History Book - This premise of this history book: The coming of Jesus Christ was the most important event in history.
Catholic History Workbook - Fascinating; hard to put down! It makes more sense of History than secular books which explain things in a disjointed manner.
Homeschooling Workbook - With questions for every chapter of Christ in the Americas - multiple choice, fill in the blank, true/false, and more!
Crisis in the Church
Read about St. Athanasius - faithful and courageous, known as the "champion of orthodoxy". One of the 33 Doctors of the Church!
St. Athanasius - The great defender of the Catholic Faith against Arianism
Crisis in the Church - How the enemies of God plot to overthrow the Church from within.
Revolution in the Church - How Vatican II and its aftermath caused a crisis in the Catholic Church.
Freemasonry - Pope Leo XIII unmasks this evil society, and forbids all Catholics to join.
Combination of ALL Heresies - Pope St. Pius X unmasks the Modernists, giving us their doctrine and methods!
Vatican II - Impartially discusses what happened at Vatican II -- mostly quotes from the men that were there!
Fascinating if true - A man's deathbed confession.
St. Therese, the Little Flower
St. Therese the Little Flower - Under obedience, she tells the story of her childhood, religious life, etc.
Mother of St. Therese - Learn about the woman who raised 5 saintly daughters, all of which entered the religious life!
Father of St. Therese - Learn about the man who let the holy family of Lisieux so well, that his 5 daughters entered a convent!
From the Sister of St. Therese - In her biography, she writes many things not found in Story of a Soul.
Lives of the Saints
Learned Mystic and Theologian - St. John of the Cross suffered greatly, even prison, for the Carmelite Reform. Father of the Discalced Carmelites.
Beautiful story of a young girl - Anne de Guigne was clever and passionate, yet practiced humility and all the other virtues -- and she died at the age of 10.
Refuge for Billions of Catholics - Catholics have always prayed to these saints in their necessities. St. Blaise, St. Christopher, etc. Includes countless novenas!
St. Anne - Grandmother of Our Lord - According to Ven. Mary of Agreda, she possessed all the virtues, especially purity. Learn more about her!
Young Italian Maiden - Who suffered the Stigmata every Friday, and was pious from her youth. St. Gemma Galgani, called the "Gem of Christ"
Heroic Chastity - Read how St. Maria Goretti had to give up her life to preserve her purity! She is called the patroness of youth.
All Glory to Almighty God - Well documented cases of the miraculous taken from the lives of the Saints. Fascinating!
Defeated Persian Sorcerers - The glorious life of St. Jude Thaddeus, Apostle and cousin of Our Lord, as taken from ancient Catholic traditions.
Angels and Devils - Learn all that Scripture and Tradition teaches us about the pure spirits God created. Fascinating and enlightening!
Life of Mary Magdalen - Learn fascinating details of her life that you didn't know before! From the visions of Anne Catherine Emmerich.
The Angel of the Judgment - At a critical point in Church history, his preaching and miracles served as a warning of impending chastisement.
Miracles All His Life - The miraculous was very common in the life of St Gerard Majella, great saint and Patron of Expectant Mothers.
Eyewitness to Gospel events - Blessed Anne Catherine Emmerich saw so many biblical events in her visions. Be inspired and edified by her virtuous life!
United with Jesus Christ - She suffered for souls and for the Church, and received countless visions all her life. One man wrote down her visions for YOUR sake!
Never a Moment Wasted - this zealous missionary and client of Our Lady is a model for all Catholics. Read about his saintly life.
She saw her Guardian Angel - this innocent girl tells us the story of her saintly life -- beautiful, inspiring!
Servants of Satan Establish Paganism - Astrology, witchcraft, and countless systems of idolatry set up after the Confusion of Tongues.
Fervent Catholic Indians - Father De Smet was like an Apostle, suffering greatly to bring the True Religion to the Native American peoples.
Classic Sermons for Lent - On the Last Things, aimed at moving you to serve God even more faithfully. By St. Francis de Sales.
Those Who Met St. Padre Pio - Stories of conversions, miracles, etc. from those who met this living Crucifix. Recently canonized.
Beat Up by the Devil - This great Saint had prophetic visions in the form of dreams, and often physically struggled with the devil.
Life of St Gertrude - Our Lord appeared to her many times, and she was much loved by Him because of her purity.
Jesus Dearly Loved Her - Because of her love and confidence in him, her heart was His favorite place to dwell, after the Blessed Sacrament.
The Dolorous Passion - Giving never before seen details of Our Lord's Passion! From the visions of Anne Catherine Emmerich.
Braving the English Torture - St. Margaret Clitherow was a wife and mother - and she kept the Faith even to martyrdom!
Details of The Good Thief - Learn about his life with a gang of brigands, how he helped the Holy Family, and much more.
Classic Catholic Sermons - You won't fall asleep here! Sermons by a Doctor of the Church, filled with energy and the spirit of Faith.
Miracles Taking Place Today - St. Philomena is famous for the number of miracles surrounding her shrine - here are some of them.
Isabella of Spain - A holy Catholic queen, and a valiant defender of Christ's kingdom.
St Anthony - the Wonder Worker - His life was filled with proofs that God was with him.
St Vincent de Paul - famous for his charities, this great Saint was canonized only 77 years after his death!
The Cure of Ars - Three of him could destroy the devil's kingdom! Read about his physical struggles with Satan.
St. Rita - Nothing is impossible with God! Her life is an example for us all, especially to mothers.
Sermons of St. Francis de Sales - Here he speaks all about the kinds of prayer. Learn what (and what not) to do!
St. Teresa of Avila - She founded many convents, which were to adhere to the strict observance of the Carmelite Rule.
St. Elizabeth of Hungary - Known for her generosity to the poor
Alexandrina - A victim soul who suffered the Passion on Fridays
The Spiritual Life
Jesus, Prisoner of Love - Meditations on the most beautiful doctrine of the Catholic Faith - the Real Presence of Jesus in the Eucharist
Spiritual Exercises - Written by a great saint, these meditations have converted millions of souls.
Manual of the Spiritual Life - Your duties as a penitent toward your confessor/spiritual director.
Lessons from Calvary - 31 meditations on Our Lord's Passion that will help you to easily avoid sin.
Finding Peace of Heart - Only by knowing how to follow God's will, can a person be truly happy.
Strategy for Getting to Heaven - We must learn how the devil works on us, how to avoid his snares, to win the "War for our Souls".
How to Fight the Deadly Sins - Timeless advice on how to combat each of the Capital sins.
A Manual for Confession - How to benefit from the Sacrament of Penance: common pitfalls, scruples, how to make a good exam of conscience, and much more.
Seven Deadly Sins - Learn about the different forms of pride, avarice, lust, anger, envy, gluttony and sloth.
How to Pray Well - How we should pray to God - with confidence, perseverance, simplicity. Advice from St. Alphonsus Liguori!
Marriage & Family
How to Raise Good Catholic Children - With examples from the saints and wise and thoughtful commentary - a must-read for every parent!

Haunted by Children She Aborted - Testimony from her own mouth: how she had 7 abortions, and how her life changed afterward.

Catholic Doctrine on Marriage - Common sources of marital strife and how to avoid them, the differences between the sexes, periodic abstinence, and more.
Your Labor of Love - The author talks about isolation, sufferings, the modern culture, and more.
Spiritual Growth during Pregnancy - How expecting a child can bring a woman closer to God and the Blessed Virgin Mary. Includes much practical advice.
St. Joseph
St. Joseph - After Our Lady, the holiest mere man who ever lived
Privileges of St. Joseph - Why St. Joseph receives so much honor in the Church
Novenas to St. Joseph - Universal Patron - Pray to St. Joseph for all of your needs - Jesus, now in Heaven, still listens to him as a father!
The Last Things/Afterlife
Death, Judgment, Hell, Heaven - The Saints always thought about their last end, and so should we. Brings the reality of eternity before your eyes!
Life Everlasting - Discusses death, judgment, heaven and hell; also the vices and virtues
Beyond the Grave - What we know about Purgatory from sacred history and the lives of the saints.
Peaceful Rest or Almost Like Hell? - Discusses the two opposing Catholic viewpoints on the subject of Purgatory.
Purgatory - Learn what the Catholic Church has always taught on this subject.
What Will Hell be Like? - Discusses the sufferings of Hell in detail.
Eternity of Hell - Including a story from a soul who was sent there!
Catholic Doctrine and Dogma
What is Sanctifying Grace? - Learn all about the nature of Grace, what it does for us, how to increase it in our souls, and its importance.
Catholic Dogma of Grace - God's grace vs. man's ability to merit for his actions.
Sin and Forgiveness - True Catholic doctrine with quotes from Scripture and the Fathers.
The Intellect of the Angels - What Catholic theology says about the angels.

Simple Easy-to-Understand Catechism - For Catholics to better learn their faith, or to give to possible converts.
Sodomy Condemned - The Catholic Church has always condemned this unnatural vice - see proofs from the Magisterium, Church laws, Scripture, canons, and more!
The Mass Keeps the World in Existence - and other lofty considerations; helps Catholics appreciate the real value of the Mass.
The Catholic Mass - Why it is so priceless; relates actual events which prove it!
The Catholic Faith - Easy to read and follow, using the most solid Catholic doctrine. Very thorough.
What Does The Bible Say About Marriage? - Find all Bible quotes about "Anger", for example, gathered into one page.
Defending the Faith/Apologetics
The REAL Luther - From the pens of Protestant historians, and Luther's own (foul) mouth - learn about the real man.
The Faith of our Fathers - A topic-by-topic explanation of what the Catholic Faith teaches. Great for apologetics!
The Bible Explained - Why were all those various stories placed in the Bible for us to read? Here is why!
How Christ Changed Society - Compare the ancient world with the world influenced by Christ.
Scripture Alone for Salvation? - Even the Bible itself denies this! Read 21 compelling reasons why Tradition is also necessary.
The Bible is a Catholic book - Convincing arguments show clearly that criticism of the Catholic Church has no truthful basis! Excellent apologetics based on history.
Defend Catholic Dogmas - Find rational arguments for what Catholics believe.
Theory of Evolution
Evolution Hoax Debunked - A learned scientist discovers that there is no evidence FOR Evolution, but plenty AGAINST it!
Proofs against Evolution - Plenty of evidence against Evolution is out there, but it is often ignored by the media. Fascinating!
Evolution is a Fraud - So say countless biologists and scientists! Read more...
Novels
King of Jerusalem - Balwin IV of Jerusalem leads the Crusaders in this exciting novel.
Exciting Adventures - Tom Playfair and his friends at a Jesuit boarding school. Exciting, Catholic, fun!
More Catholic Adventures - written by Fr. Finn - Percy Wynn meets Tom Playfair and friends, and enters the boarding school (St. Maure's).
Perpetual Motion Boy - The Fr. Finn boarding school universe expands with Claude Lightfoot and other interesting characters.
That Football Game - written by Fr. Finn - Which is more important? English class, a math competition, or an upcoming football game?
Return to Catholic Doctrine Homepage