Catholic Search
Custom Search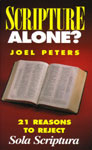 21 Reasons to Reject Sola Scriptura


What Is Sola Scriptura?
"We believe in the Bible alone and the Bible in its entirety as the sole rule of faith for the Christian!" You may have heard these words or something very similar to them from a Fundamentalist or Evangelical Protestant. They are, in essence, the meaning of the doctrine of Sola Scriptura, or "Scripture alone," which alleges that the Bible— as interpreted by the individual believer—is the only source of religious authority and is the Christian's sole rule of faith or criterion regarding what is to be believed. By this doctrine, which is one of the foundational beliefs of Protestantism, a Protestant denies that there is any other source of religious authority or divine Revelation to humanity. The Catholic, on the other hand, holds that the immediate or direct rule of faith is the teaching of the Church; the Church in turn takes her teaching from divine Revelation—both the written Word, called Sacred Scripture, and the oral or unwritten Word, known as "Tradition." The teaching authority or "Magisterium" of the Catholic Church (headed by the Pope), although not itself a source of divine Revelation, nevertheless has a God-given mission to interpret and teach both Scripture and Tradition. Scripture and Tradition are the sources of Christian doctrine, the Christian's remote or indirect rule of faith. Obviously these two views on what constitutes the Christian's rule of faith are opposed to each other, and anyone who sincerely seeks to follow Christ must be sure that he follows the one that is true.
The doctrine of Sola Scriptura originated with Martin Luther, the 16th-century German monk who broke away from the Roman Catholic Church and started the Protestant "Reformation." In response to some abuses that had been occurring within the Catholic Church, Luther became a vocal opponent of certain practices. As far as these abuses were concerned, they were real and Luther was justified in reacting. However, as a series of confrontations between him and the Catholic hierarchy developed, the issues became more centered on the question of Church authority and—from Luther's perspective— whether or not the teaching of the Catholic Church was a legitimate rule of faith for Christians. As the confrontations between Luther and the Church's hierarchy ensued and tensions mounted, Luther accused the Catholic Church of having corrupted Christian doctrine and having distorted Biblical truths, and he more and more came to believe that the Bible, as interpreted by the individual believer, was the only true religious authority for a Christian. He eventually rejected Tradition as well as the teaching authority of the Catholic Church (with the Pope at its head) as having legitimate religious authority.
An honest inquirer must ask, then, whether Luther's doctrine of "Scripture alone" was a genuine restoration of a Biblical truth or rather the promulgation of an individual's personal views on Christian authority. Luther was clearly passionate about his beliefs, and he was successful in spreading them, but these facts in and of themselves do not guarantee that what he taught was correct. Since one's spiritual well-being, and even one's eternal destiny, is at stake, the Christian believer needs to be absolutely sure in this matter. Following are twenty-one considerations which will help the reader scrutinize Luther's doctrine of
Sola Scriptura from Biblical, historical and logical bases and which show that it is not in fact a genuine Biblical truth, but rather a man-made doctrine.
1. The Doctrine of Sola Scriptura Is Not Taught Anywhere in the Bible.
Perhaps the most striking reason for rejecting this doctrine is that there is not one verse anywhere in the Bible in which it is taught, and it therefore becomes a self-refuting doctrine. Protestants often point to verses such as 2 Timothy 3:16-17 or The Apocalypse (Revelation) 22:18-19 in defense of Sola Scriptura, but close examination of these two passages easily demonstrates that they do not support the doctrine at all. In 2 Timothy 3:16-17 we read, "All scripture, inspired of God, is profitable to teach, to reprove, to correct, to instruct in justice, that the man of God may be perfect, furnished to every good work." There are five considerations which undermine the Sola Scriptura interpretation of this passage:
1) The Greek word ophelimos ("profitable")
used in verse 16 means "useful" and not "sufficient." An example of this difference would be to say that water is useful for our existence—even necessary—but it is not sufficient; that is, it is not the only thing we need to survive. We also need food, clothing, shelter, etc. Likewise, Scripture is useful in the life of the believer, but it was never meant to be the only source of Christian teaching, the only thing needed for believers.
2) The Greek word pasa, which is often rendered as "all," actually means "every," and it has the sense of referring to each and every one of the class denoted by the noun connected with it. 2 In other words, the Greek reads in a way which indicates that each and every "Scripture" is profitable. If the doctrine of Sola Scriptura were true, then based on the Greek in verse 16, each and every book of the Bible could stand on its own as the sole rule of faith, a position which is obviously absurd.
3) The "Scripture" that St. Paul is referring to here is the Old Testament, a fact which is made plain by his reference to the Scriptures' being known by Timothy from "infancy" (verse 15). The New Testament as we know it did not yet exist, or at best it was incomplete, so it simply could not have been included in St. Paul's understanding of what was meant by the term "scripture." If we take St. Paul's words at face value, Sola Scriptura would therefore mean that the Old Testament is the Christian's sole rule of faith. This is a premise that all Christians would reject. Protestants may respond to this issue by arguing that St. Paul is not here discussing the canon of the Bible (the authoritative list of which books are included in the Bible), but rather the nature of Scripture. While there is some validity to this assertion, the issue of canon is also relevant here, for the following reason: Before we can talk about the nature of Scripture as being theopneustos or "inspired" (literally, "God-breathed"), it is imperative that we identify with certainty those books we mean when we say "Scripture"; otherwise, the wrong writings may be labeled as "inspired." St. Paul's words here obviously took on a new dimension when the New Testament was completed, as Christians eventually considered it, too, to be "Scripture." It can be argued, then, that the Biblical canon is also the issue here, as St. Paul— writing under the inspiration of the Holy Spirit— emphasizes the fact that all (and not just some) Scripture is inspired. The question that begs to be asked, however, is this: "How can we be sure we have all the correct writings?" Obviously, we can only know the answer if we know what the canon of the Bible is. Such a question poses a problem for the Protestant, but not for the Catholic, as the latter has an infallible authority to answer it.
4) The Greek word artios, here translated "perfect," may at first glance make it seem that the Scriptures are indeed all that is needed. "After all," one may ask, "if the Scriptures make the man of God perfect, what else could be needed? Doesn't the very word 'perfect' imply that nothing is lacking?" Well, the difficulty with such an interpretation is that the text here does not say that it is solely by means of the Scriptures that the man of God is made "perfect." The text—if anything—indicates precisely the opposite to be true, namely, that the Scriptures operate in conjunction with other things. Notice that it is not just anyone who is made perfect, but rather the "man of God"— which means a minister of Christ (cf. 1 Tim. 6:11), a clergyman. The fact that this individual is a minister of Christ presupposes that he has already had training and teaching which prepared him to assume his office. This being the case, the Scriptures would be merely one item in a series of items which make this man of God "perfect." The Scriptures may complete his list of necessary items or they may be one prominent item on the list, but surely they are not the only item on his list nor intended to be all that he needs.
By way of analogy, consider a medical doctor. In this context we might say something like, "The Physician's Desk Reference [a standard medical reference book] makes our General Practitioner perfect, so that he may be ready to treat any medical situation." Obviously such a statement does not mean that all a doctor needs is his PDR. It is either the last item on his list or just one prominent item. The doctor also needs his stethoscope, his blood pressure gauge, his training, etc. These other items are presupposed by the fact that we are talking about a doctor rather than a non-medical person. So it would be incorrect to assume that if the PDR makes the doctor "perfect," it is the only thing which makes him so. Also, taking this word "perfect" as meaning "the only necessary item" results in a biblical contradiction, for in James 1:4 we read that patience—rather than the Scriptures—makes one perfect: "And patience hath a perfect work; that you may be perfect and entire, failing in nothing."
Now it is true that a different Greek word (teleios) is used here for "perfect," but the fact remains that the basic meaning is the same. Now, if one rightly acknowledges that patience is clearly not the only thing a Christian needs in order to be perfect, then a consistent interpretive method would compel one to acknowledge likewise that the Scriptures are not the only thing a "man of God" needs in order to be perfect.
5) The Greek word exartizo in verse 17, here translated "furnished" (other Bible versions read something like "fully equipped" or "thoroughly furnished") is referred to by Protestants as "proof " of Sola Scriptura, since this word— again—may be taken as implying that nothing else is needed for the "man of God." However, even though the man of God may be "furnished" or "thoroughly equipped," this fact in and of itself does not guarantee that he knows how to interpret correctly and apply any given Scripture passage. The clergyman must also be taught how to correctly use the Scriptures, even though he may
already be "furnished" with them. Consider again a medical analogy. Picture a medical student at the beginning of an internship. He might have at his disposal all the equipment necessary to perform an operation (i.e., he is "thoroughly equipped" or "furnished" for a surgical procedure), but until he spends time with the doctors, who are the resident authorities, observing their techniques, learning their skills, and practicing some procedures of his own, the surgical instruments at his disposal are essentially useless. In fact, if he does not learn how to use these instruments properly, they can actually become dangerous in his hands. So it is with the "man of God" and the Scriptures. The Scriptures, like the surgical instruments, are life-giving only when properly used. When improperly used, the exact opposite results can occur. In one case they could bring physical ruin or even death; in the other case they could bring spiritual ruin or even spiritual death. Since the Bible admonishes us to handle rightly or rightly divide the word of truth (cf. 2 Tim. 2:15), it is therefore possible to handle incorrectly or wrongly divide it—much like an untrained medical student who incorrectly wields his surgical
instruments.
Regarding The Apocalypse (Revelation) 22:18- 19, there are two considerations which undermine the Sola Scriptura interpretation of these verses. The passage—almost the very last in the Bible— reads: "For I testify to every one that heareth the words of the prophecy of this book: If any man shall add to these things, God shall add unto him the plagues written in this book. And if any man shall take away from the words of the book of this prophecy, God shall take away his part out of the book of life, and out of the holy city, and from these things that are written in this book."
1) When these verses say that nothing is to be added to or taken from the "words of the prophecy of this book," they are not referring to Sacred Tradition being "added" to Sacred Scripture. It is obvious from the context that the "book" being referred to here is Revelation or The Apocalypse and not the whole Bible. We know this because St. John says that anyone who is guilty of adding to "this book" will be cursed with the plagues "written in this book," namely the plagues he described earlier in his own book, Revelation. To assert otherwise is to do violence to the text and to distort its plain meaning, specially
since the Bible as we know it did not exist when this passage was written and therefore could not be what was meant. In defense of their interpretation of these verses, Protestants will often contend that God knew in advance what the canon of Scripture would be, with Revelation being the last book of the Bible, and thus He "sealed" that canon with the words of verses 18-19. But this interpretation involves reading a meaning into the text. Furthermore, if such an assertion were true, how is it that the Christian knows unmistakably that Revelation 22:18-19 is "sealing" the canon unless an infallible teaching authority assures him that this is the correct interpretation of that verse? But if such an infallible authority exists, then the Sola Scriptura doctrine becomes ipso facto null and void.
2) The same admonition not to add or subtract words is used in Deuteronomy 4:2, which says, "You shall not add to the word that I speak to you, neither shall you take away from it: keep the commandment of the Lord your God which I command you." If we were to apply a parallel interpretation to this verse, then anything in the Bible beyond the decrees of the Old Testament law would be considered non-canonical or not authentic Scripture—including the New Testament! Once again, all Christians would reject this conclusion in no uncertain terms. The prohibition in Revelation 22:18-19 against "adding," therefore, cannot mean that Christians are forbidden to look to anything outside the Bible for guidance.
2. The Bible Indicates that in Addition to the Written Word, We Are to Accept Oral Tradition.
St. Paul both commends and commands the keeping of oral tradition. In 1 Corinthians 11:2, for instance, we read, "Now I praise you, brethren, that in all things you are mindful of me: and keep my ordinances as I have delivered them to you." St. Paul is obviously commending the keeping of oral tradition here, and it should be noted in particular that he extols the believers for having done so ("I praise you . . ."). Explicit in this passage is also the fact that the integrity of this Apostolic oral tradition has clearly been maintained, just as Our Lord promised it would be, through the safeguarding of the Holy Spirit (cf. John 16:13). Perhaps the clearest Biblical support for oral tradition can be found in 2 Thessalonians 2:14(15), where Christians are actually commanded: "Therefore, brethren, stand fast; and hold the traditions which you have learned, whether by word, or by our epistle." This passage is significant in that a) it shows the existence of living traditions within the Apostolic teaching, b) it tells us unequivocally that believers are firmly grounded in the Faith by adhering to these traditions, and c) it clearly states that these traditions were both written and oral. Since the Bible distinctly states here that oral traditions—authentic and Apostolic in origin—are to be "held" as a valid component of the Deposit of Faith, by what reasoning or excuse do Protestants dismiss them? By what authority do they reject a clear-cut injunction of St. Paul?
Moreover, we must consider the text in this passage. The Greek word krateite, here translated "hold," means "to be strong, mighty, to prevail." This language is rather emphatic, and it demonstrates the importance of maintaining these traditions. Of course one must differentiate between Tradition (upper-case "T") that is part of divine Revelation, on the one hand, and, on the other hand, Church traditions (lower-case "t") that, although good, have developed in the Church later and are not part of the Deposit of Faith. An example of something that is part of Tradition would be infant Baptism; an example of a Church tradition would be the Church's calendar of feast days of Saints. Anything that is part of Tradition is of divine origin and hence unchangeable, while Church traditions are changeable by the Church. Sacred Tradition serves as a rule of faith by showing what the Church has believed consistently through the centuries and how it has always understood any given portion of the Bible. One of the main ways in which Tradition has been passed down to us is in the doctrine contained in the ancient texts of the liturgy, the Church's public worship.
It should be noted that Protestants accuse Catholics of promoting "unbiblical" or "novel" doctrines based on Tradition, asserting that such Tradition contains doctrines which are foreign to the Bible. However, this assertion is wholly untrue. The Catholic Church teaches that Sacred Tradition contains nothing whatsoever that is contrary to the Bible. Some Catholic thinkers would even say that there is nothing in Sacred Tradition which is not also found in Scripture, at least implicitly or in seminal form. Certainly the two are at least in perfect harmony and always support each other. For some doctrines, the Church draws more from Tradition than from Scripture for its understanding, but even those doctrines are often implied or hinted at in Sacred Scripture. For example, the following are largely based on Sacred Tradition: infant Baptism, the canon of Scripture, the perpetual virginity of the Blessed Virgin Mary, Sunday (rather than Saturday) as the Lord's Day, and the Assumption of Our Lady. Sacred Tradition complements our understanding of the Bible and is therefore not some extraneous source of Revelation which contains doctrines that are foreign to it. Quite the contrary: Sacred Tradition serves as the Church's living memory, reminding her of what the faithful have constantly and consistently believed and how to properly understand and interpret the meaning of Biblical passages. In a certain way, it is Sacred Tradition which says to the reader of the Bible, "You have been reading a very important book which contains God's revelation to man. Now let me explain to you how it has always been understood and practiced by believers from the very beginning."
3. The Bible Calls the Church and Not the Bible the "Pillar and Ground of the Truth."
It is very interesting to note that in 1 Timothy 3:15 we see, not the Bible, but the Church—that is, the living community of believers founded upon St. Peter and the Apostles and headed by their successors—called "the pillar and ground of the truth." Of course, this passage is not meant in any way to diminish the importance of the Bible, but it is intending to show that Jesus Christ did establish an authoritative teaching Church which was commissioned to teach "all nations." (Matt. 28:19). Elsewhere this same Church received Christ's promise that the gates of Hell would not prevail against it (Matt. 16:18), that He would always be with it (Matt. 28:20), and that He would give it the Holy Spirit to teach it all truth. (John 16:13). To the visible head of His Church, St. Peter, Our Lord said: "And I will give to thee the keys of the kingdom of heaven. And whatsoever thou shalt bind upon earth, it shall be bound also in heaven: and, whatsoever thou shalt loose on earth, it shall be loosed also in heaven." (Matt. 16:19). It is plainly evident from these passages that Our Lord emphasized the authority of His Church and the role it would have in safeguarding and defining the Deposit of Faith. It is also evident from these passages that this same Church would be infallible, for if at any time in its history it would definitively teach error to the Church as a whole in matters of faith or morals—even temporarily—it would cease being this "pillar and ground of the truth." Since a "ground" or foundation by its very nature is meant to be a permanent support, and since the above-mentioned passages do not allow for the possibility of the Church ever definitively teaching doctrinal or moral error, the only plausible conclusion is that Our Lord was very deliberate in establishing His Church and that He was referring to its infallibility when He called it the "pillar and ground of the truth."
The Protestant, however, has a dilemma here by asserting the Bible to be the sole rule of faith for believers. In what capacity, then, is the Church the "pillar and ground of the truth" if it is not to serve as an infallible authority established by Christ? How can the Church be this "pillar and ground" if it has no tangible, practical ability to serve as an authority in the life of a Christian? The Protestant would effectively deny that the Church is the "pillar and ground of the truth" by denying that the Church has the authority to teach. Also, Protestants understand the term "church" to mean something different from what the Catholic Church understands it to mean. Protestants see "the church" as an invisible entity, and for them it refers collectively to all Christian believers around the world who are united by faith in Christ, despite major variations in doctrine and denominational allegiance. Catholics, on the other hand, understand it to mean not only those true believers who are united as Christ's Mystical Body, but we simultaneously understand it to refer to a visible, historical entity as well, namely, that one—and only that one—organization which can trace its lineage in an unbroken line back to the Apostles themselves: the Catholic Church. It is this Church and this Church alone which was established by Christ and which has maintained an absolute consistency in doctrine throughout its existence, and it is therefore this Church alone which can claim to be that very "pillar and ground of the truth."
Protestantism, by comparison, has known a history of doctrinal vacillations and changes, and no two denominations completely agree—even on major doctrinal issues. Such shifting and changing could not possibly be considered a foundation or "ground of the truth." When the foundation of a structure shifts or is improperly set, that structure's very support is unreliable (cf. Matt. 7:26- 27). Since in practice the beliefs of Protestantism have undergone change both within denominations and through the continued appearance of new denominations, these beliefs are like a foundation which shifts and moves. Such beliefs therefore cease to provide the support necessary to maintain the structure they uphold, and the integrity of that structure becomes compromised. Our Lord clearly did not intend for His followers to build their spiritual houses on such an unreliable foundation.
4. Christ Tells Us to Submit to the Authority of the Church.
In Matthew 18:15-18 we see Christ instructing His disciples on how to correct a fellow believer. It is extremely telling in this instance that Our Lord identifies the Church rather than Scripture as the final authority to be appealed to. He Himself says that if an offending brother "will not hear the church, let him be to thee as the heathen and publican" (Matt. 18:17)—that is, as an outsider who is lost. Moreover, Our Lord then solemnly re-emphasizes the Church's infallible teaching authority in verse 18 by repeating His earlier statement about the power to bind and loose (Matt. 16:18-19), directing it this time to the Apostles as a group7 rather than just to Peter: "Amen I say to you, whatsoever you shall bind upon earth, shall be bound also in heaven; and whatsoever you shall loose upon earth, shall be loosed also in heaven." (Matt. 18:18). Of course there are instances in the Bible where Our Lord does appeal to Scripture, but in these cases He, as one having authority, was teaching the Scriptures; He was not allowing the Scriptures to teach themselves. For example, He would respond to the Scribes and the Pharisees by using Scripture precisely because they often tried to trip Him up by using Scripture. In these instances, Our Lord often demonstrates how the Scribes and Pharisees had wrong interpretations, and hence He corrects them by properly interpreting Scripture. His actions do not argue that Scripture should be sola, or an authority in itself and, in fact, the only Christian authority. Quite the contrary; whenever Christ refers His hearers to the Scriptures, He also provides His infallible, authoritative interpretation of them, demonstrating that the Scriptures do not interpret themselves.
The Catholic Church readily acknowledges the inerrancy and authority of Scripture. But the Catholic doctrine is that the immediate rule of faith for the Christian is the teaching authority of the Church—an authority to teach and interpret both Scripture and Tradition, as Matt. 18:17-18 shows. It should also be noted that implicit (perhaps even explicit) in this passage from Matthew is the fact that the "Church" must have been a visible, tangible entity established in a hierarchical fashion. Otherwise, how would anyone have known to whom the wrongdoer should be referred? If the Protestant definition of "church" were correct, then the wrongdoer would have to "hear" each and every believer who existed, hoping that there would be unanimity among them regarding the issue at hand. The inherent absurdity of this scenario is readily apparent. The only way we can make sense of Our Lord's statement here is to acknowledge that there was a definite organization, with positions of authority readily identifiable, to which an appeal could be made and from which a decisive judgment could be had.
5. Scripture Itself States that It Is Insufficient of Itself as a Teacher, but Rather Needs an Interpreter.
The Bible says in 2 Tim. 3:17 that the man of God is "perfect, furnished to every good work." As we noted above, this verse means only that the man of God is fully supplied with Scripture; it is not a guarantee that he automatically knows how to interpret it properly. This verse at most argues only for the material sufficiency of Scripture, a position which is held by some Catholic thinkers today. "Material sufficiency" would mean that the Bible in some way contains all the truths that are necessary for the believer to know; in other words, the "materials" would thus be all present or at least implied. "Formal sufficiency," on the other hand, would mean that the Bible would not only contain all the truths that are necessary, but that it would also present those truths in a perfectly clear and complete and readily understandable fashion. In other words, these truths would be in a useable "form," and consequently there would be no need for Sacred Tradition to clarify and complete them or for an infallible teaching authority to interpret correctly or "rightly divide" God's word. Since the Catholic Church holds that the Bible is not sufficient in itself, it naturally teaches that the Bible needs an interpreter. The reason the Catholic Church so teaches is twofold: first, because Christ established a living Church to teach with His authority. He did not simply give His disciples a Bible, whole and entire, and tell them to go out and make copies of it for mass distribution and allow people to come to whatever interpretation they may. Second, the Bible itself states that it needs an interpreter.
Regarding the second point, we read in 2 Peter 3:16 that in St. Paul's epistles there are "certain things hard to be understood, which the unlearned and unstable wrest [distort], as they do also the other scriptures, to their own destruction." In this one verse we note three very important things about the Bible and its interpretation: a) the Bible contains passages which are not readily understandable or clear, a fact which demonstrates the need for an authoritative and infallible teacher to make the passages clear and understandable; b) it is not only possible that people could "wrest" or distort the meaning of Scripture, but this was, in fact, being done from the very earliest days of the Church; and c) to distort the meaning of Scripture can result in one's "destruction," a disastrous fate indeed. It is obvious from these considerations that St. Peter did not believe the Bible to be the sole rule of faith. But there is more. In Acts 8:26-40 we read the account of the deacon St. Philip and the Ethiopian eunuch. In this scenario, the Holy Spirit leads Philip to approach the Ethiopian. When Philip learns that the Ethiopian is reading from the prophet Isaias, he asks him a very telling question: "Thinkest thou that thou understandest what thou readest?" Even more telling is the answer given by the Ethiopian: "And how can I, unless some man show me?" Whereas this St. Philip (known as "the Evangelist") is not one of the twelve Apostles, he was nonetheless someone who was commissioned by the Apostles (cf. Acts 6:6) and who preached the Gospel with authority (cf. Acts 8:4-8). Consequently, his preaching would reflect legitimate Apostolic teaching. The point here is that the Ethiopian's statement verifies the fact that the Bible is not sufficient in itself as a teacher of Christian doctrine, and people who hear the Word do need an authority to instruct them properly so that they may understand what the Bible says. If the Bible were indeed sufficient of itself, then the eunuch would not have been ignorant of the meaning of the passage from Isaias.
There is also 2 Peter 1:20, which states that "no prophecy of scripture is made by private interpretation." Here we see the Bible itself stating in no uncertain terms that its prophecies are not a matter for which the individual is to arrive at his own interpretation. It is also most telling that this verse is preceded by a section on the Apostolic witness (verses 12-18) and followed by a section on false teachers (chapter 2, verses 1-10). St. Peter is obviously contrasting genuine, Apostolic teaching with false prophets and false teachers, and he makes reference to private interpretation as the pivotal point between the two. The clear implication is that private interpretation is one pathway whereby an individual turns from authentic teaching and begins to follow erroneous teaching.
Taken from Sola Scriptura? by TAN Books & Publishers, Inc.
Other pages discussing Catholic doctrine and history:

Our Lord Jesus Christ
The Sacred Heart of Jesus - Learn all about this beautiful devotion to Our Lord.
The Shroud of Our Lord - Discusses the convroversy over the Shroud of Turin - is it real or a forgery? Evidence points to its authenticity.
Infinite Mercy of Jesus - Learn how the Heart of Jesus has a strong desire to love and pardon sinners who sincerely return to Him.
The Blessed Virgin Mary
The Blessed Virgin Mary - Immaculate, pure, and our most powerful intercessor after Our Lord
The Holy Slavery - To Jesus, through Mary -- the same way Jesus came to us (through His Mother)
Edifying and Beautiful - Learn about God's Providence in regard to the Blessed Virgin Mary, her graces and merits, the details of her life!
Our Lady of Fatima - Her predictions and warning for the future.
Saints who Saw Mary - Tells the story of 17 great Saints who saw and heard the Blessed Mother, whom they were so devoted to!
History and Culture
Wearing Pants Incites Men to Lust - Learn how women's fashions have corrupted, how evil forces are behind most modern fashions, and much more! Includes practical advice.
How to Run a Catholic Family - Discusses how to bring the Catholic Faith into family life! How the family can best celebrate feast days, and make use of good Catholic customs.
A TRUE History Book - This premise of this history book: The coming of Jesus Christ was the most important event in history.
Catholic History Workbook - Fascinating; hard to put down! It makes more sense of History than secular books which explain things in a disjointed manner.
Homeschooling Workbook - With questions for every chapter of Christ in the Americas - multiple choice, fill in the blank, true/false, and more!
Crisis in the Church
Read about St. Athanasius - faithful and courageous, known as the "champion of orthodoxy". One of the 33 Doctors of the Church!
St. Athanasius - The great defender of the Catholic Faith against Arianism
Crisis in the Church - How the enemies of God plot to overthrow the Church from within.
Revolution in the Church - How Vatican II and its aftermath caused a crisis in the Catholic Church.
Freemasonry - Pope Leo XIII unmasks this evil society, and forbids all Catholics to join.
Combination of ALL Heresies - Pope St. Pius X unmasks the Modernists, giving us their doctrine and methods!
Vatican II - Impartially discusses what happened at Vatican II -- mostly quotes from the men that were there!
Fascinating if true - A man's deathbed confession.
St. Therese, the Little Flower
St. Therese the Little Flower - Under obedience, she tells the story of her childhood, religious life, etc.
Mother of St. Therese - Learn about the woman who raised 5 saintly daughters, all of which entered the religious life!
Father of St. Therese - Learn about the man who let the holy family of Lisieux so well, that his 5 daughters entered a convent!
From the Sister of St. Therese - In her biography, she writes many things not found in Story of a Soul.
Lives of the Saints
Learned Mystic and Theologian - St. John of the Cross suffered greatly, even prison, for the Carmelite Reform. Father of the Discalced Carmelites.
Beautiful story of a young girl - Anne de Guigne was clever and passionate, yet practiced humility and all the other virtues -- and she died at the age of 10.
Refuge for Billions of Catholics - Catholics have always prayed to these saints in their necessities. St. Blaise, St. Christopher, etc. Includes countless novenas!
St. Anne - Grandmother of Our Lord - According to Ven. Mary of Agreda, she possessed all the virtues, especially purity. Learn more about her!
Young Italian Maiden - Who suffered the Stigmata every Friday, and was pious from her youth. St. Gemma Galgani, called the "Gem of Christ"
Heroic Chastity - Read how St. Maria Goretti had to give up her life to preserve her purity! She is called the patroness of youth.
All Glory to Almighty God - Well documented cases of the miraculous taken from the lives of the Saints. Fascinating!
Defeated Persian Sorcerers - The glorious life of St. Jude Thaddeus, Apostle and cousin of Our Lord, as taken from ancient Catholic traditions.
Angels and Devils - Learn all that Scripture and Tradition teaches us about the pure spirits God created. Fascinating and enlightening!
Life of Mary Magdalen - Learn fascinating details of her life that you didn't know before! From the visions of Anne Catherine Emmerich.
The Angel of the Judgment - At a critical point in Church history, his preaching and miracles served as a warning of impending chastisement.
Miracles All His Life - The miraculous was very common in the life of St Gerard Majella, great saint and Patron of Expectant Mothers.
Eyewitness to Gospel events - Blessed Anne Catherine Emmerich saw so many biblical events in her visions. Be inspired and edified by her virtuous life!
United with Jesus Christ - She suffered for souls and for the Church, and received countless visions all her life. One man wrote down her visions for YOUR sake!
Never a Moment Wasted - this zealous missionary and client of Our Lady is a model for all Catholics. Read about his saintly life.
She saw her Guardian Angel - this innocent girl tells us the story of her saintly life -- beautiful, inspiring!
Servants of Satan Establish Paganism - Astrology, witchcraft, and countless systems of idolatry set up after the Confusion of Tongues.
Fervent Catholic Indians - Father De Smet was like an Apostle, suffering greatly to bring the True Religion to the Native American peoples.
Classic Sermons for Lent - On the Last Things, aimed at moving you to serve God even more faithfully. By St. Francis de Sales.
Those Who Met St. Padre Pio - Stories of conversions, miracles, etc. from those who met this living Crucifix. Recently canonized.
Beat Up by the Devil - This great Saint had prophetic visions in the form of dreams, and often physically struggled with the devil.
Life of St Gertrude - Our Lord appeared to her many times, and she was much loved by Him because of her purity.
Jesus Dearly Loved Her - Because of her love and confidence in him, her heart was His favorite place to dwell, after the Blessed Sacrament.
The Dolorous Passion - Giving never before seen details of Our Lord's Passion! From the visions of Anne Catherine Emmerich.
Braving the English Torture - St. Margaret Clitherow was a wife and mother - and she kept the Faith even to martyrdom!
Details of The Good Thief - Learn about his life with a gang of brigands, how he helped the Holy Family, and much more.
Classic Catholic Sermons - You won't fall asleep here! Sermons by a Doctor of the Church, filled with energy and the spirit of Faith.
Miracles Taking Place Today - St. Philomena is famous for the number of miracles surrounding her shrine - here are some of them.
Isabella of Spain - A holy Catholic queen, and a valiant defender of Christ's kingdom.
St Anthony - the Wonder Worker - His life was filled with proofs that God was with him.
St Vincent de Paul - famous for his charities, this great Saint was canonized only 77 years after his death!
The Cure of Ars - Three of him could destroy the devil's kingdom! Read about his physical struggles with Satan.
St. Rita - Nothing is impossible with God! Her life is an example for us all, especially to mothers.
Sermons of St. Francis de Sales - Here he speaks all about the kinds of prayer. Learn what (and what not) to do!
St. Teresa of Avila - She founded many convents, which were to adhere to the strict observance of the Carmelite Rule.
St. Elizabeth of Hungary - Known for her generosity to the poor
Alexandrina - A victim soul who suffered the Passion on Fridays
The Spiritual Life
Jesus, Prisoner of Love - Meditations on the most beautiful doctrine of the Catholic Faith - the Real Presence of Jesus in the Eucharist
Spiritual Exercises - Written by a great saint, these meditations have converted millions of souls.
Manual of the Spiritual Life - Your duties as a penitent toward your confessor/spiritual director.
Lessons from Calvary - 31 meditations on Our Lord's Passion that will help you to easily avoid sin.
Finding Peace of Heart - Only by knowing how to follow God's will, can a person be truly happy.
Strategy for Getting to Heaven - We must learn how the devil works on us, how to avoid his snares, to win the "War for our Souls".
How to Fight the Deadly Sins - Timeless advice on how to combat each of the Capital sins.
A Manual for Confession - How to benefit from the Sacrament of Penance: common pitfalls, scruples, how to make a good exam of conscience, and much more.
Seven Deadly Sins - Learn about the different forms of pride, avarice, lust, anger, envy, gluttony and sloth.
How to Pray Well - How we should pray to God - with confidence, perseverance, simplicity. Advice from St. Alphonsus Liguori!
Marriage & Family
How to Raise Good Catholic Children - With examples from the saints and wise and thoughtful commentary - a must-read for every parent!

Haunted by Children She Aborted - Testimony from her own mouth: how she had 7 abortions, and how her life changed afterward.

Catholic Doctrine on Marriage - Common sources of marital strife and how to avoid them, the differences between the sexes, periodic abstinence, and more.
Your Labor of Love - The author talks about isolation, sufferings, the modern culture, and more.
Spiritual Growth during Pregnancy - How expecting a child can bring a woman closer to God and the Blessed Virgin Mary. Includes much practical advice.
St. Joseph
St. Joseph - After Our Lady, the holiest mere man who ever lived
Privileges of St. Joseph - Why St. Joseph receives so much honor in the Church
Novenas to St. Joseph - Universal Patron - Pray to St. Joseph for all of your needs - Jesus, now in Heaven, still listens to him as a father!
The Last Things/Afterlife
Death, Judgment, Hell, Heaven - The Saints always thought about their last end, and so should we. Brings the reality of eternity before your eyes!
Life Everlasting - Discusses death, judgment, heaven and hell; also the vices and virtues
Beyond the Grave - What we know about Purgatory from sacred history and the lives of the saints.
Peaceful Rest or Almost Like Hell? - Discusses the two opposing Catholic viewpoints on the subject of Purgatory.
Purgatory - Learn what the Catholic Church has always taught on this subject.
What Will Hell be Like? - Discusses the sufferings of Hell in detail.
Eternity of Hell - Including a story from a soul who was sent there!
Catholic Doctrine and Dogma
What is Sanctifying Grace? - Learn all about the nature of Grace, what it does for us, how to increase it in our souls, and its importance.
Catholic Dogma of Grace - God's grace vs. man's ability to merit for his actions.
Sin and Forgiveness - True Catholic doctrine with quotes from Scripture and the Fathers.
The Intellect of the Angels - What Catholic theology says about the angels.

Simple Easy-to-Understand Catechism - For Catholics to better learn their faith, or to give to possible converts.
Sodomy Condemned - The Catholic Church has always condemned this unnatural vice - see proofs from the Magisterium, Church laws, Scripture, canons, and more!
The Mass Keeps the World in Existence - and other lofty considerations; helps Catholics appreciate the real value of the Mass.
The Catholic Mass - Why it is so priceless; relates actual events which prove it!
The Catholic Faith - Easy to read and follow, using the most solid Catholic doctrine. Very thorough.
What Does The Bible Say About Marriage? - Find all Bible quotes about "Anger", for example, gathered into one page.
Defending the Faith/Apologetics
The REAL Luther - From the pens of Protestant historians, and Luther's own (foul) mouth - learn about the real man.
The Faith of our Fathers - A topic-by-topic explanation of what the Catholic Faith teaches. Great for apologetics!
The Bible Explained - Why were all those various stories placed in the Bible for us to read? Here is why!
How Christ Changed Society - Compare the ancient world with the world influenced by Christ.
Scripture Alone for Salvation? - Even the Bible itself denies this! Read 21 compelling reasons why Tradition is also necessary.
The Bible is a Catholic book - Convincing arguments show clearly that criticism of the Catholic Church has no truthful basis! Excellent apologetics based on history.
Defend Catholic Dogmas - Find rational arguments for what Catholics believe.
Theory of Evolution
Evolution Hoax Debunked - A learned scientist discovers that there is no evidence FOR Evolution, but plenty AGAINST it!
Proofs against Evolution - Plenty of evidence against Evolution is out there, but it is often ignored by the media. Fascinating!
Evolution is a Fraud - So say countless biologists and scientists! Read more...
Novels
King of Jerusalem - Balwin IV of Jerusalem leads the Crusaders in this exciting novel.
Exciting Adventures - Tom Playfair and his friends at a Jesuit boarding school. Exciting, Catholic, fun!
More Catholic Adventures - written by Fr. Finn - Percy Wynn meets Tom Playfair and friends, and enters the boarding school (St. Maure's).
Perpetual Motion Boy - The Fr. Finn boarding school universe expands with Claude Lightfoot and other interesting characters.
That Football Game - written by Fr. Finn - Which is more important? English class, a math competition, or an upcoming football game?
Return to Catholic Doctrine Homepage