Catholic Search
Custom Search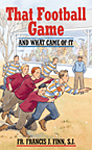 That Football Game

and what came of it


"To the spectators it seemed as though Harry Archer were carrying the opposing eleven on his back. He shook off one, then another."

By Fr. Francis J. Finn, S.J.
AUTHOR OF TOM PLAYFAIR, PERCY WYNN, HARRY DEE, ETC.

"I regard football as the greatest of all games, principally for the reason that it schools a boy to almost heroic self-restraint both on and off the field." —Pages 21-22

"Football is essentially a young gentlemen's game. It is quite feasible, at times, to play a game of baseball with rough characters; but in football, you must play only with gentlemen—otherwise the game becomes a slugging match and a question as to which is the better or worse set of rowdies." —Page 25

CONTENTS
CHAPTER I
A Little Poetry, a Little of Mathematics, with the Prospects of a Great Deal about Football 1
CHAPTER II
In which the Milwaukee College Eleven Begin to Feel the Iron Hand of Discipline 16
CHAPTER III
In which It Is shown that the Game of Football, with its Severe Preparatory Work, Has Many Points in Its Favor . . 27
CHAPTER IV
The Home of Harry Archer . 41
CHAPTER V
Showing How a Want of Ready Money Is Not Always a Thing To Be Deplored 50
CHAPTER VI
In which Mathematicians Are Given their Due 62
CHAPTER VII
In which It Is Shown that Football May Be a Help both to Study and to Devotion . 72
CHAPTER VIII
In which New Troubles Visit the Archer Family . . 81
CHAPTER IX
In which Harry Begins to Suspect that He Is Burning the Candle at Both Ends . 95
CHAPTER X
In which Harry and Claude Take a Drive 118
CHAPTER XI
In which the Morning of Thanksgiving Day Reveals Serious Internal Dissensions in the Football Team . 127
CHAPTER XII
In which Mr. Keenan Faces an Indignant Mother and Is More Frightened than He ever Was Since He Came to the Use of Reason . . 138
CHAPTER XIII
On the way to the Football Field . . .152
CHAPTER XIV
In which Mandolin Merry and Mary Dale Learn Something of the Great Game .159
CHAPTER XV
In which the Milwaukees Play the First Half under Great Difficulties . . 177
CHAPTER XVI
In which Ernest Snowden Surprises Everybody, and the Great Football Game Comes to an End . 211
CHAPTER XVII
In which Harry Learns that He Cannot Compete in the Mathematical Contest . . 232
CHAPTER XVIII
In which It Is shown that Doctors May Compare Favorably with even the Best of Mathematicians . . 240
CHAPTER XIX
In which the Prospects for the Archer Family Grow Brighter . . 249
CHAPTER XX
In which Everybody Is Happy and the Curtain Falls . . 254

Chapter I
A LITTLE OF POETRY, A LITTLE OF MATHEMATICS, WITH THE PROSPECT OF A GREAT DEAL ABOUT FOOTBALL

Mr. George Keenan, Professor of Poetry Class, having heard the recitation in Rhetoric and given a new lesson and an English theme for the following day, took up a bundle of papers from his desk. There was a slight stir in the class indicative of awakening interest. Mr. Keenan had the gift of arousing enthusiasm in regard to English writing, and, in consequence, his scholars were ever ready to listen with eager interest to his comments on their attempts, whether in verse or in prose.
"I have examined this set of verses," began the professor, "with much interest and pleasure. Out of eighteen exercises, twelve are very creditable. For imagination, Claude Lightfoot's is far the best, while for finish of versification, Dan Dockery's is admirable. I shall read these presently and also three or four others—Stein's, Pearson's, O'Rourke's, and Desmond's. But business before pleasure. I have here a set of verses which, while they would not be particularly discreditable to a student in Humanities, are not all that one expects from a member of Poetry class. Here we expect something more than verse and rhymes, which are merely the dry bones of poetry; every English exercise given you in this class, unless it is expressly stated otherwise, is supposed to have some touch of passion, in the rhetorical sense of that word. Now listen to this:

A POEM ON NIGHT
The sun has slowly gone to rest
Behind the mountains in the west.
It gets a good deal darker now,
The bird stops singing on the bough;
The stars come out and at us peep,
And little children go to sleep,
And chickens, too, go off to roost.

"By the way," interpolated Mr. Keenan,
"are we to infer that children go to roost, too?"

And watchdogs from their chains are loosed,
The stars come out, the moon shines, too,
Although a cloud hides it from view.
The crickets chirp, the bullfrog croaks,
And many a man goes off and smokes.

The reading was here interrupted by an outbreak of laughs and giggles. Mr. Keenan held up his hand.
"Here, now," he said, "you have an example of how not to write poetry. The boy who composed this never for one moment during the composition of his doggerel placed before his imagination one concrete picture of night. He simply took nights in general and looked at them piecemeal. Hence, there is no order, no unity, no choice of details, nothing that would give an idea to the listener of any particular night from the beginning of Spring to the end of Autumn. The composer's imagination is as dry as a stick. I dare say he hasn't read three good books during the entire vacation just passed. Anyone reading
these verses can see that in writing them he was 'most unusual calm.' " Just as this point a hand went up. It was Harry Archer's.
"Well, Harry?" said Mr. Keenan, returning a smile for the grin on the student's face.
"I wasn't 'most unusual calm,' sir, when I wrote those verses."
"Ah, you have told on yourself, Harry," said Mr. Keenan, as several of the boys turned their merry eyes on Archer with new interest.
"Oh, they all know the way I write from last year, sir; and it doesn't matter, anyhow. But so far from being 'most unusual calm,' I was almost tearing my hair out after I got to the seventh line in one hour, and stuck there for almost another, trying to get a rhyme for roost. By the time I loosed those
dogs on the scene, I was so mad that I could have done something desperate."
Mr. Keenan laughed.
"Why, Harry, your own confession shows that you need not despair. Put your passion into your verse instead of pulling at your hair, and then who knows but you will turn out a poet."
Mr. Keenan was about to read Claude Lightfoot's verse on the same subject when the door of the classroom opened and Father Hogan, vice president of the college [academy], entered, followed by a young gentleman of sixteen. The newcomer was attired in the extreme of fashion—his suit was of the lightest color, his trousers, below the knees, were of the widest; his hair was very long, parted in the middle, and plastered down on either side of the parting so as to allow only a small triangular portion of his forehead to be seen. For the rest, he was stout, cherry-cheeked, pretty and, aside from the evidence of scented handkerchief and many jewels, decidedly effeminate. The newcomer was smiling recognition to nearly everybody in the room. He kissed his hand to Claude Lightfoot.
"Mr. Keenan," said the vice president, "I bring you a new member for your class— Willie Hardy, who for the past two years has been attending classes as a boarder at St. Maure's College [Academy]."
"You are welcome," said Mr. Keenan, taking the boy's hand in his.
Willie Hardy advanced his right foot, drew back his left, and bowed so low that the professor was able to trace the parting of his hair as far as the nape of his neck, where, for obvious reasons, it ended.
"It is not necessary, Mr. Keenan," proceeded the vice president, "for me to introduce Willie Hardy to the students of this class. Willie has told me that he was with them in Second Academic, and I am sure they all remember him very well."
"I know I do," said Claude Lightfoot, with the sunny smile which he had carried undimmed up and on through the lower classes; whereat all the listeners, morally speaking, broke into a roar of laughter. Mr. Keenan and the vice president were puzzled by this outburst of merriment. They were both unacquainted with Willie Hardy personally, and, luckily for that smiling youth, knew nothing of his record at Milwaukee College [Academy]; and, as Willie joined in with
the laughing quite heartily, they were not moved to inquire further into the matter. The vice president withdrew; Willie was assigned a seat next to Claude Lightfoot, and Mr. Keenan was about to resume class work when the bell rang for the end of class.
"By the way," said Mr. Keenan, "don't forget about the meeting in the gymnasium of the members of the football team."
Then he said prayers with the class and dismissed them. As Willie Hardy was going out, he motioned him to remain. Willie stood smiling and radiant while the students marched out two by two into the corridor. One other boy, however, remained. It was Harry Archer. He was very red in the face, and very nervous.
"What's the matter, Harry?" inquired the professor kindly.
"I—I've come to tell you, sir, that I can't play football this year."
Mr. Keenan had considerable command over his feelings, but I am bound to say that at this announcement his jaw dropped.
"Why, Harry," he exclaimed, "you're not in earnest, are you? We can't get along without our quarterback."
"Oh, you will find plenty of good material, I hope, sir. I am awfully sorry, for I love the game, and I want to see Milwaukee College head and shoulders over every team in the city, but I can't play this year."
"I doubt very much," Mr. Keenan made answer, "whether we have plenty of good material; but even granting this, there is no one in the college—in fact I believe, from what I have heard—there is no one in the city who can at all compare with you as quarterback. Are you quite serious in your resolution?"
"Indeed, I am, Mr. Keenan. I have been thinking about the matter ever since the middle of last August; and since the opening of classes last week, I have been thinking of it harder than ever. The fact is, I have been trying to find some excuse to play, but I really can't. I am convinced that it is my duty to keep out of the game for this season."
"I think I could play quarterback," said Willie Hardy, who had been listening thus far with no attempt to conceal his interest.
"I hope, Harry," Mr. Keenan went on, taking no notice, under stress of his disappointment, of Willie—"I hope that my reading of your verses and my comments on them have had nothing to do with your decision."
"Oh indeed, no, Mr. Keenan!" protested Harry with much earnestness. "I know that my verses are bad, and the few words you said have convinced me that I ought to do a little reading, but I spend so much time at studying that I find none for books."
"How much time do you give to your studies?"
"From three to five hours, sir."
Here Willie, who was now standing behind Mr. Keenan, thrust his tongue into his cheek, and winked at Harry. The object of these polite attentions, however, failed to acknowledge the signals. Willie felt sure that Harry was lying and had thrown out these familiar signs to signify in the most friendly manner
possible his opinion to that effect.
"Well," said Mr. Keenan, "I would advise you to throw off an hour from your studies and give it to reading."
"But, sir, I am working for that eightydollar prize for the best examination in Geometry."
"Even so, Harry, that work need not engross your time; as a mathematician you are far and away the best in the class. Claude Lightfoot, excellent as he is, can't come near you."
"Yes, but that's because I study at it three or four times as long as Claude. If I were to let down in my work, Claude would run away from me in Mathematics in a week."
"That may be so, Harry; but meantime you are giving so much time to Mathematics and so little to English that you are in danger of injuring your literary gifts. If you were to pay more attention to each, you would secure a much better mental development. Mathematics and literary studies correct each other. An excess of Mathematics narrows or even dries up the imagination, while an excess in the study of literature develops looseness, vagueness and inaccuracy.
You must try to balance yourself."
"That is true, sir; but I have made up my mind to get that eighty-dollar prize, if it is possible; and in the meantime I must let literature, outside of regular class work, go. After Thanksgiving Day I hope that I shall be able to do better."
"I shall be delighted, Harry, if you secure the prize. It will be an honor to our class and to our college."
"A good many high-school boys and private students under eighteen are working for it, and some of them have hired special coaches."
"Is anyone helping you?"
"No, sir; I am working pretty much by myself. Mr. Lawrence, who taught us Geometry in Humanities, gave me a splendid start, and I find that under you I am learning, if anything, faster than ever."
Here Willie Hardy interposed.
"I thay," he said with a pronounced lisp, "what ith thith thing all about? Whothe going to give a prithe of eighty dollarth?"
"Didn't you hear about it yet?" cried Archer.
"Have you been away from Milwaukee this summer?"
"Yeth," said Willie sweetly; "I wath thpending my time out at a lake where there wath nobody to dithturb me. I gave nine hourth a day to reading poetry."
Mr. Keenan, who knew nothing of Willie, was impressed with this statement. Archer was impressed, too, but for a different reason. That richness of fancy which had made Willie notorious in former years at Milwaukee College had not deserted the pretty youth. He still lied with elegance and ease.
"Well, Willie," said the professor, "on the tenth of August last, the Evening Wisconsin offered a prize of eighty dollars to any boy or girl under the age of nineteen who should make the best examination in Geometry. It is open to any young person in Milwaukee who, on the thirtieth of November next, shall present himself or herself at the Public Library Reading Room with one hundred coupons cut out from the issues of the Evening Wisconsin. Those who are to compete must come to the reading room with no paper of any kind save the one hundred coupons, which are to serve as tickets of admission. Paper, pens and ink are to be provided by the proprietors of the paper. Sharp at nine o'clock on the morning of November the thirtieth, every competitor will be handed a slip containing some fifteen or twenty propositions and problems in Geometry. These propositions and problems are to be made out by the city editor of the Wisconsin, who is an able mathematician; and as he is one of the projectors of the enterprise and a man of the most scrupulous honor, you see that there is little or no danger of unfairness. Now, Harry," continued Mr. Keenan, turning his eyes upon the young mathematician, "I think I see a chance to get you some extra help. How would you like to have a coach who would do his work for you as a labor of love?"
Harry's eyes danced.
"Oh! I should be infinitely obliged to you," he said.
"I should be glad to coach you myself, were it not for two reasons. First, I have to give most of my time, outside of class work and preparation for it, to keeping athletics going among the boys. (This, it may be said in parenthesis, was quite true.) Secondly, even if I were free, I don't think that I should be of any assistance to you, as I am but a poor mathematician."
In giving the second reason, Mr. Keenan allowed his modesty to get the better of his judgment.
"I wouldn't think of letting you help me, sir," put in Harry, "because I know you have more than enough to do."
"Not more than enough, Harry. We never have too much to do, so long as we love our work and are able to do it. But there is a young Father in the college who has given all his free time for the last ten years to mathematics. He is now engaged in writing a book on Calculus and some time ago offered to help me in any way he could. I think that if I mention your case to him he will gladly give you a few hours a week. I have met many mathematicians, but no one who at all approaches him. If he finds that you have the ability, he will give you a training such as no boy in Milwaukee is likely to get."
"My!" cried Archer, "wouldn't that be fine!"
"There wath a profether at Thaint Maureth who could square the thircle," put in Willie.
Taking no notice of the remark, Mr. Keenan went on.
"Now, Harry, in case I get Father Trainer to help you, I want you to promise in return that once the contest is over, you will give yourself with energy—and I know you have plenty of it—to your English."
"I promise right here and now, Mr. Keenan; and honestly, I feel as though you were heaping coals of fire upon my head. Here I come and disappoint you very much, as I can see, by refusing to play in the college eleven; and in return, you try to help me as though I were your best friend. Oh! I should like to
play; it makes me feel so mean to refuse; but I can't, sir. One reason is that I wish to give extra time to study, but that's only a small part. I should like to tell you the other reason, but I can't do it yet. Later on, sir, I hope to be able to tell you."
"Very good, Harry. I am convinced that you are acting under a sense of duty; and, while I am sorry to lose you, I would rather have no eleven at all than have a single boy on it who was playing to the detriment of higher and more important interests."
"Thank you, Mr. Keenan. I hope to be able to do something for you and for the college in the way of athletics next Spring. Good afternoon, sir."
"Good afternoon, Harry; and be careful, my boy, not to study too much. Keep your health and strength. Even during these first ten or twelve days of class, I have noticed that your color is not so good as it was when I first met you last August, and there is the least little sign of a black circle under your eyes."
"Oh, I'm pretty strong, sir; but I'll try to look out."
"Now, Willie," said Mr. Keenan, as Harry left the room, "perhaps you can be of some use to me. Are you a football player?"
"That ith my favorite game."
"Were you on the first eleven of St. Maure's?"
"No, thir; but I wath to play on it thith year. I wath to be either tackle or quarterback. Latht year I wath a thubthitoot."
"Oh, indeed! That means a good deal, if the St. Maure's team is all that it is cracked up to be. I am surprised that you did not go back to St. Maure's to share in the glory of the team."
"I would go back, thir, only I want more time and thecluthion for thtudieth."
Mr. Keenan was edified. As he had been at Milwaukee for only four weeks, it is not surprising that he had as yet learned nothing of Willie Hardy, who had not returned to St. Maure's because he had been "requested" by the vice president to stay at home.
"Well," said the prefect, "we might try you for our football eleven. The withdrawal of Archer leaves us short of a man, and perhaps we could play you in the line. The boys attending here of sufficient weight for the line of rushers are all of them either already engaged on the team, or for one reason or
another cannot play."
"Couldn't I play quarterback?"
"We will see about that. Ah! There goes the bell for the football meeting. Come along with me, Willie." Mr. Keenan added, speaking rather to himself, "I expect to encounter a storm or two before we adjourn."

Taken from That Football Game by TAN Books & Publishers, Inc.

Other pages discussing Catholic doctrine and history:

Our Lord Jesus Christ
The Sacred Heart of Jesus - Learn all about this beautiful devotion to Our Lord.
The Shroud of Our Lord - Discusses the convroversy over the Shroud of Turin - is it real or a forgery? Evidence points to its authenticity.
Infinite Mercy of Jesus - Learn how the Heart of Jesus has a strong desire to love and pardon sinners who sincerely return to Him.
The Blessed Virgin Mary
The Blessed Virgin Mary - Immaculate, pure, and our most powerful intercessor after Our Lord
The Holy Slavery - To Jesus, through Mary -- the same way Jesus came to us (through His Mother)
Edifying and Beautiful - Learn about God's Providence in regard to the Blessed Virgin Mary, her graces and merits, the details of her life!
Our Lady of Fatima - Her predictions and warning for the future.
Saints who Saw Mary - Tells the story of 17 great Saints who saw and heard the Blessed Mother, whom they were so devoted to!
History and Culture
Wearing Pants Incites Men to Lust - Learn how women's fashions have corrupted, how evil forces are behind most modern fashions, and much more! Includes practical advice.
How to Run a Catholic Family - Discusses how to bring the Catholic Faith into family life! How the family can best celebrate feast days, and make use of good Catholic customs.
A TRUE History Book - This premise of this history book: The coming of Jesus Christ was the most important event in history.
Catholic History Workbook - Fascinating; hard to put down! It makes more sense of History than secular books which explain things in a disjointed manner.
Homeschooling Workbook - With questions for every chapter of Christ in the Americas - multiple choice, fill in the blank, true/false, and more!
Crisis in the Church
Read about St. Athanasius - faithful and courageous, known as the "champion of orthodoxy". One of the 33 Doctors of the Church!
St. Athanasius - The great defender of the Catholic Faith against Arianism
Crisis in the Church - How the enemies of God plot to overthrow the Church from within.
Revolution in the Church - How Vatican II and its aftermath caused a crisis in the Catholic Church.
Freemasonry - Pope Leo XIII unmasks this evil society, and forbids all Catholics to join.
Combination of ALL Heresies - Pope St. Pius X unmasks the Modernists, giving us their doctrine and methods!
Vatican II - Impartially discusses what happened at Vatican II -- mostly quotes from the men that were there!
Fascinating if true - A man's deathbed confession.
St. Therese, the Little Flower
St. Therese the Little Flower - Under obedience, she tells the story of her childhood, religious life, etc.
Mother of St. Therese - Learn about the woman who raised 5 saintly daughters, all of which entered the religious life!
Father of St. Therese - Learn about the man who let the holy family of Lisieux so well, that his 5 daughters entered a convent!
From the Sister of St. Therese - In her biography, she writes many things not found in Story of a Soul.
Lives of the Saints
Learned Mystic and Theologian - St. John of the Cross suffered greatly, even prison, for the Carmelite Reform. Father of the Discalced Carmelites.
Beautiful story of a young girl - Anne de Guigne was clever and passionate, yet practiced humility and all the other virtues -- and she died at the age of 10.
Refuge for Billions of Catholics - Catholics have always prayed to these saints in their necessities. St. Blaise, St. Christopher, etc. Includes countless novenas!
St. Anne - Grandmother of Our Lord - According to Ven. Mary of Agreda, she possessed all the virtues, especially purity. Learn more about her!
Young Italian Maiden - Who suffered the Stigmata every Friday, and was pious from her youth. St. Gemma Galgani, called the "Gem of Christ"
Heroic Chastity - Read how St. Maria Goretti had to give up her life to preserve her purity! She is called the patroness of youth.
All Glory to Almighty God - Well documented cases of the miraculous taken from the lives of the Saints. Fascinating!
Defeated Persian Sorcerers - The glorious life of St. Jude Thaddeus, Apostle and cousin of Our Lord, as taken from ancient Catholic traditions.
Angels and Devils - Learn all that Scripture and Tradition teaches us about the pure spirits God created. Fascinating and enlightening!
Life of Mary Magdalen - Learn fascinating details of her life that you didn't know before! From the visions of Anne Catherine Emmerich.
The Angel of the Judgment - At a critical point in Church history, his preaching and miracles served as a warning of impending chastisement.
Miracles All His Life - The miraculous was very common in the life of St Gerard Majella, great saint and Patron of Expectant Mothers.
Eyewitness to Gospel events - Blessed Anne Catherine Emmerich saw so many biblical events in her visions. Be inspired and edified by her virtuous life!
United with Jesus Christ - She suffered for souls and for the Church, and received countless visions all her life. One man wrote down her visions for YOUR sake!
Never a Moment Wasted - this zealous missionary and client of Our Lady is a model for all Catholics. Read about his saintly life.
She saw her Guardian Angel - this innocent girl tells us the story of her saintly life -- beautiful, inspiring!
Servants of Satan Establish Paganism - Astrology, witchcraft, and countless systems of idolatry set up after the Confusion of Tongues.
Fervent Catholic Indians - Father De Smet was like an Apostle, suffering greatly to bring the True Religion to the Native American peoples.
Classic Sermons for Lent - On the Last Things, aimed at moving you to serve God even more faithfully. By St. Francis de Sales.
Those Who Met St. Padre Pio - Stories of conversions, miracles, etc. from those who met this living Crucifix. Recently canonized.
Beat Up by the Devil - This great Saint had prophetic visions in the form of dreams, and often physically struggled with the devil.
Life of St Gertrude - Our Lord appeared to her many times, and she was much loved by Him because of her purity.
Jesus Dearly Loved Her - Because of her love and confidence in him, her heart was His favorite place to dwell, after the Blessed Sacrament.
The Dolorous Passion - Giving never before seen details of Our Lord's Passion! From the visions of Anne Catherine Emmerich.
Braving the English Torture - St. Margaret Clitherow was a wife and mother - and she kept the Faith even to martyrdom!
Details of The Good Thief - Learn about his life with a gang of brigands, how he helped the Holy Family, and much more.
Classic Catholic Sermons - You won't fall asleep here! Sermons by a Doctor of the Church, filled with energy and the spirit of Faith.
Miracles Taking Place Today - St. Philomena is famous for the number of miracles surrounding her shrine - here are some of them.
Isabella of Spain - A holy Catholic queen, and a valiant defender of Christ's kingdom.
St Anthony - the Wonder Worker - His life was filled with proofs that God was with him.
St Vincent de Paul - famous for his charities, this great Saint was canonized only 77 years after his death!
The Cure of Ars - Three of him could destroy the devil's kingdom! Read about his physical struggles with Satan.
St. Rita - Nothing is impossible with God! Her life is an example for us all, especially to mothers.
Sermons of St. Francis de Sales - Here he speaks all about the kinds of prayer. Learn what (and what not) to do!
St. Teresa of Avila - She founded many convents, which were to adhere to the strict observance of the Carmelite Rule.
St. Elizabeth of Hungary - Known for her generosity to the poor
Alexandrina - A victim soul who suffered the Passion on Fridays
The Spiritual Life
Jesus, Prisoner of Love - Meditations on the most beautiful doctrine of the Catholic Faith - the Real Presence of Jesus in the Eucharist
Spiritual Exercises - Written by a great saint, these meditations have converted millions of souls.
Manual of the Spiritual Life - Your duties as a penitent toward your confessor/spiritual director.
Lessons from Calvary - 31 meditations on Our Lord's Passion that will help you to easily avoid sin.
Finding Peace of Heart - Only by knowing how to follow God's will, can a person be truly happy.
Strategy for Getting to Heaven - We must learn how the devil works on us, how to avoid his snares, to win the "War for our Souls".
How to Fight the Deadly Sins - Timeless advice on how to combat each of the Capital sins.
A Manual for Confession - How to benefit from the Sacrament of Penance: common pitfalls, scruples, how to make a good exam of conscience, and much more.
Seven Deadly Sins - Learn about the different forms of pride, avarice, lust, anger, envy, gluttony and sloth.
How to Pray Well - How we should pray to God - with confidence, perseverance, simplicity. Advice from St. Alphonsus Liguori!
Marriage & Family
How to Raise Good Catholic Children - With examples from the saints and wise and thoughtful commentary - a must-read for every parent!

Haunted by Children She Aborted - Testimony from her own mouth: how she had 7 abortions, and how her life changed afterward.

Catholic Doctrine on Marriage - Common sources of marital strife and how to avoid them, the differences between the sexes, periodic abstinence, and more.
Your Labor of Love - The author talks about isolation, sufferings, the modern culture, and more.
Spiritual Growth during Pregnancy - How expecting a child can bring a woman closer to God and the Blessed Virgin Mary. Includes much practical advice.
St. Joseph
St. Joseph - After Our Lady, the holiest mere man who ever lived
Privileges of St. Joseph - Why St. Joseph receives so much honor in the Church
Novenas to St. Joseph - Universal Patron - Pray to St. Joseph for all of your needs - Jesus, now in Heaven, still listens to him as a father!
The Last Things/Afterlife
Death, Judgment, Hell, Heaven - The Saints always thought about their last end, and so should we. Brings the reality of eternity before your eyes!
Life Everlasting - Discusses death, judgment, heaven and hell; also the vices and virtues
Beyond the Grave - What we know about Purgatory from sacred history and the lives of the saints.
Peaceful Rest or Almost Like Hell? - Discusses the two opposing Catholic viewpoints on the subject of Purgatory.
Purgatory - Learn what the Catholic Church has always taught on this subject.
What Will Hell be Like? - Discusses the sufferings of Hell in detail.
Eternity of Hell - Including a story from a soul who was sent there!
Catholic Doctrine and Dogma
What is Sanctifying Grace? - Learn all about the nature of Grace, what it does for us, how to increase it in our souls, and its importance.
Catholic Dogma of Grace - God's grace vs. man's ability to merit for his actions.
Sin and Forgiveness - True Catholic doctrine with quotes from Scripture and the Fathers.
The Intellect of the Angels - What Catholic theology says about the angels.

Simple Easy-to-Understand Catechism - For Catholics to better learn their faith, or to give to possible converts.
Sodomy Condemned - The Catholic Church has always condemned this unnatural vice - see proofs from the Magisterium, Church laws, Scripture, canons, and more!
The Mass Keeps the World in Existence - and other lofty considerations; helps Catholics appreciate the real value of the Mass.
The Catholic Mass - Why it is so priceless; relates actual events which prove it!
The Catholic Faith - Easy to read and follow, using the most solid Catholic doctrine. Very thorough.
What Does The Bible Say About Marriage? - Find all Bible quotes about "Anger", for example, gathered into one page.
Defending the Faith/Apologetics
The REAL Luther - From the pens of Protestant historians, and Luther's own (foul) mouth - learn about the real man.
The Faith of our Fathers - A topic-by-topic explanation of what the Catholic Faith teaches. Great for apologetics!
The Bible Explained - Why were all those various stories placed in the Bible for us to read? Here is why!
How Christ Changed Society - Compare the ancient world with the world influenced by Christ.
Scripture Alone for Salvation? - Even the Bible itself denies this! Read 21 compelling reasons why Tradition is also necessary.
The Bible is a Catholic book - Convincing arguments show clearly that criticism of the Catholic Church has no truthful basis! Excellent apologetics based on history.
Defend Catholic Dogmas - Find rational arguments for what Catholics believe.
Theory of Evolution
Evolution Hoax Debunked - A learned scientist discovers that there is no evidence FOR Evolution, but plenty AGAINST it!
Proofs against Evolution - Plenty of evidence against Evolution is out there, but it is often ignored by the media. Fascinating!
Evolution is a Fraud - So say countless biologists and scientists! Read more...
Novels
King of Jerusalem - Balwin IV of Jerusalem leads the Crusaders in this exciting novel.
Exciting Adventures - Tom Playfair and his friends at a Jesuit boarding school. Exciting, Catholic, fun!
More Catholic Adventures - written by Fr. Finn - Percy Wynn meets Tom Playfair and friends, and enters the boarding school (St. Maure's).
Perpetual Motion Boy - The Fr. Finn boarding school universe expands with Claude Lightfoot and other interesting characters.
That Football Game - written by Fr. Finn - Which is more important? English class, a math competition, or an upcoming football game?
Return to Catholic Doctrine Homepage